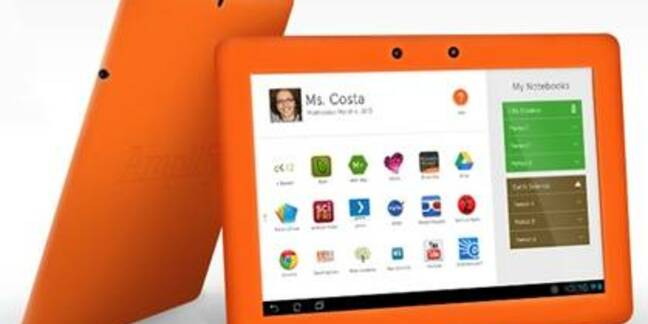 News Corporation is getting into the fondleslab business via its educational arm, Amplify, with a cheap Android slab aimed at schools.
"We want to transform the way teachers teach and students learn," said Amplify CEO Joel Klein in a statement. "Technology has revolutionized the world, but not the classroom. Our hope is that this tablet will help change that."
The 10-inch Amplify Tablet will run Android 4.2 and will come bundled with Google Apps for Education, a Desmos graphing calculator, special educational tools for teachers, and reference titles like the Encyclopaedia Britannica and the Merriam-Webster Dictionary.
Under the hood there's an Nvidia Tegra 3 quad-core CPU, and Amplify says the tablet is similar to the Asus Transformer Pad TF300TL (in other words, it's most likely rebadged). This would give it 1GB of RAM and 32GB of storage, but full specs haven't been released.
At launch, the Wi-Fi tablet will cost $299, plus $99 a year for a minimum of two years for access to the tablet's contents. A 4G-equipped version will be also available at $349 for the device plus a two-year subscription at $179 per year. After the "early adopter" period ends, the prices of the slabs will go up to $349 and $399 respectively.
"This is more than just a tablet. It's a complete learning solution organized around the school day," said Stephen Smyth, president of Amplify's Access division. "We believe it's both more affordable and more impactful than just about any other product in the education technology market."
News Corporation has tried and failed to provide content for the fondleslab user with the now-defunct The Daily epaper for the iPad. Now it's going up against its former best corporate chum with the new fondleslab.
Apple has long had a big footprint in the US education market, and the Amplify Tablet will cause some consternation at Cupertino, but not that much. Cash-strapped schools are unlikely to have many funds for fondleslabs, unless News Corp is offering serious volume discounts. ®
Sponsored: Webcast: Ransomware has gone nuclear