Brit firm flogs bit-crushing app so you can throttle your OWN data
User-side compression settings let you comb through stats too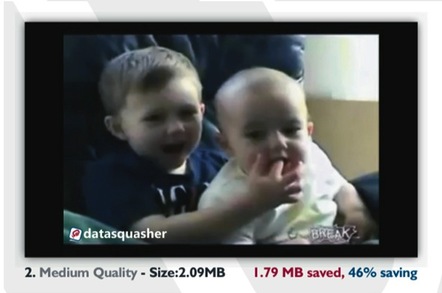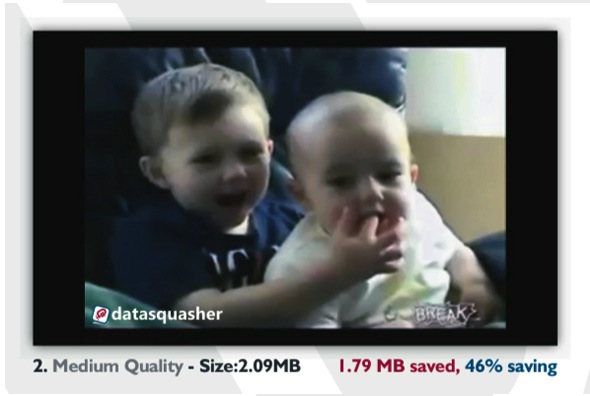 The networks - both mobile and fixed - have been squashing your data for years. But now a London company has launched a product allowing you to control it yourself.
The latest company to launch a consumer-side compression product is UK firm Millenoki, which allows users to throttle back their data usage or cut out the operators' compression to enjoy higher quality. It's not a new idea: current user-side data-compression firms include VC-funded Snappli and Onavo.
But the Brit firm also has an eye on the lucrative enterprise market, where the rise of BYOD makes its product more relevant to corporate types. We'd also imagine the statistics on customers' usage of the app could ultimately be flogged to businesses.
The firm's Datasquasher product compresses data in the handset and then tunnels it to the company's servers. It uses the company's own compression for pictures, audio and video. It's fast enough for realtime compression of two-way video for Skype or Facetime.
This is being sold as a way of reducing your mobile data bills, or helping you keep within your data plan, but it also gives lots of stats on data usage which might be of value to the customer, a corporate IT department, an operator or MVNO.
Because both the mobile and Wi-Fi data goes through the company's servers, it includes data on what has been offloaded which gives access to data on usage. Sysadmins can get a breakdown on which apps are using how much bandwidth – ideal if you are running iOS 6.1 – as well as how much web browsing and email is being used. The enterprise can implement policy control and get logs of how much data is both sent and received. A control panel can be set to pop up - scheduled either by calendar or data usage, for every week or every 50MB.
Millenoki is looking to sell the app directly to users and it will soon be on iTunes and Google Play with a Windows 8 version in the wings. Enterprise and versions aimed at MVNOs will follow. ®
Simon Rockman was the editor of What Mobile magazine. He now runs a mobile phone service for older users. He also blogs at fussfreephones.com.
Sponsored: How to get more from MicroStrategy by optimising your data stack