Farewell, Reg: This hack is hanging up her Apple jacket
Leach flees for land of pinstripe suits and upstarts
It's a fond KTHNXBAI to Register readers as your humble hack heads for the door after 18 months as a Vulture, leaving behind some stale doughnuts, a promotional frisbee and taking with me some memories - great ones.
Writing stories for the bumper 7.3 million Reg readers has been a privilege, and I've enjoyed reading your informative, erudite and witty comments and emails. And also some of the less erudite and witty emails and comments. And the comments in Welsh. Thanks for that, guys.
Let's keep this swift: here are a few of the highlights from the past year and a half.
1. Apple iRumours
Owning an iPad, not being infuriated by Mac OS X, and having a childlike sense of wonder meant that I landed the job of covering Apple news on arrival at El Reg. You may recall gritted-teeth coverage with headlines along the lines of "RUMOUR: Apple designs new thing, perhaps", a scintillating series of "Steve Jobs' death finally clears way for …" stories and - my favourites - bonkers Apple patents.
A jacket came with the role of Cupertino watcher. I'm leaving it for my successor.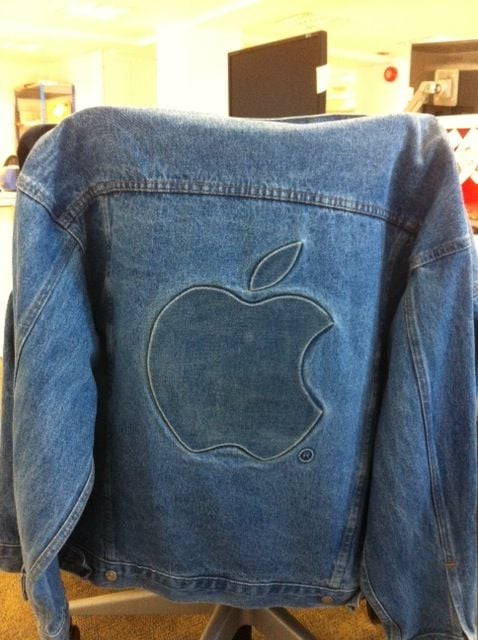 The Reg's Apple-branded denim jacket for Apple-watching staff. I was forced to wear this (or at least leave it on the back of my chair)
2. That terrifying moment when the sub-editors chuckled deviously and slapped a new headline on my story
I knew this piece was going to attract some firm attention from the production desk, but still.
3. The RBS computer meltdown
Working out the technical flaw behind the crash that derailed 17 million Royal Bank of Scotland bank accounts, which set the national news agenda for days on end, and which yet again got The Register grudgingly cited all over the big media (even though we're officially bigger than some of them now - Ed). The breaks came thanks to our knowledgeable Reg readers - thanks again.
I've learned a lot from the great Vultures I've worked with; starting with key worldview training on my first day, when my boss banged on the table again and again, attempting to drive home the essential point that almost everything I had considered to be good or lovely or worthwhile was either a cynical marketing ploy, insignificant, actively evil or all of the above. (He actually expressed this concept using a shorter word, repeated many times.)
It's been fun ever since. And no, I haven't been fired. I'm off to the Wall Street Journal's European tentacle, where I'll be covering the Euro/London tech scene, particularly startups. If you do "the twitter thing" I'm here, in a personal capacity: @annajleach
I'll leave the capable Reg team and the lucky new reporter who inherits my job (and perhaps jacket) to continue their rampage through technology news, writing terrifying headlines and biting the hand that feeds IT. ®