Lynch and his Autonomy inner circle depict selves as crime kingpins
Prank vid from the past. Mike, don't give up the day ... oh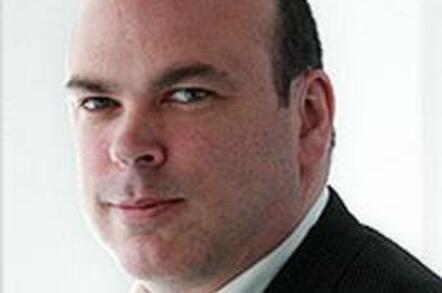 Vid The brash sales culture at Brit software biz Autonomy, since controversially sold to HP, was portrayed by co-founder Mike Lynch and his inner circle as being similar to organised crime in a prank corporate video which surfaced recently.
The five minutes of hilarity - no honestly, it really is very tasteless funny - was quietly slipped onto the Internet late last week by "Mob SMS".
In it Autonomy founder and former CEO Lynch hosts a weekly sales catch-up for the Sicilian Music Society - cleverly SMS is also the abbreviated form of of the firm's Sales Management System (geddit).
On the call with Big Mike are CTO Peter Menell, AKA Petie Boy, CFO Sushovan Hussain, AKA Little Sushie, and Consigliere Kanter, also known as COO Andrew Kanter.
The four led a faux conference call with other team members referred to as Big Joey, Little Mikey, Martie Mumbles, Frankie The Fish and Petie Boy - who reported problems with closing deals.
Little Mike said he needed help from CTO Kanter because he couldn't get the wife of his customer into the trunk of his car as "the broad's legs were too long".
Frankie The Fish said he had an issue with a casino job. He had done the demo, but "we couldn't find a phone line so we tried using some string but he just kept breaking out".
CFO Little Sushie vocalised his frustration with sporadic outbursts of "he's shitting me" and "he's kidding me".
The vid is understood to have been produced years before Autonomy was sold to HP, and was designed to cause a few laughs at a sales conference in Miami - apparently the laughter could be heard back in Blighty.
A source tells us that in the pre-HP days, Autonomy's sales force had to provide weekly updates on leads, and that "there was lots of shouting on the case when things weren't looking good".
So, a case of art mirroring life. The question is whether Lynch is nowadays awaiting a call from Hollywood. If he is, here's some advice Mike: Don't give up the day job ... Oh. ®