Storage glitch sends Curiosity into safe mode
In space, no-one can find your last known good configuration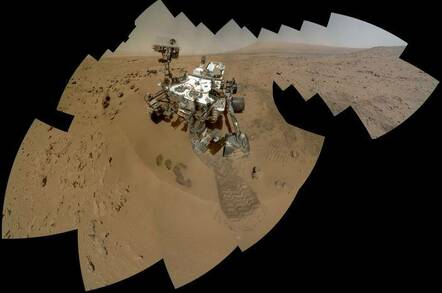 Nuclear-powered, laser-armed space tank Curiosity is currently working in safe mode, after one of the craft's onboard computers developed a memory glitch.
NASA has switched the craft to its "B" computer, a device identical to the problematic "A" unit, and says "a glitch in flash memory" is the source of the problem.
Curiosity carries two computers, Rover Compute Element-A and the spare Rover Compute Element-B. As we've reported previously, both are powered by a hardened 200MHz PowerPC 750 CPU. Each is equipped with 256MB of RAM, 250KB of read-only memory (in an EEPROM that can be wiped if required) and 2GB of flash storage.
While NASA has not revealed the exact nature of RCE-A's problems but says before it was shut down it "did not send recorded data". As our previous report states the 2GB of Flash memory is where the rover stores data before beaming it home, it seems highly likely, based on NASA's statement, that it is that 2GB of flash and not the EEPROM that is the source of the problem.
Other reports suggest the rover continuously rebooted due to the flash glitch.
Whatever the source of the problem, Curiosity is now running on RCE-B, which is behaving as its makers intended, but NASA is keeping things simple by doing no science until it can figure out what's wrong.
Magdy Bareh, leader of the mission's anomaly resolution team has said, in a canned statement, that "While we are resuming operations on the B-side, we are also working to determine the best way to restore the A-side as a viable backup." ®