Big Blue touts superfast analogue-digital converter
SKA-inspired project could reach into your smartphone
We're nowhere near the limits of optical fibre capacity: the bottlenecks exist in the electronics that connects to the fibre. One part of this is the analogue to digital converter (ADC) and IBM is touting a prototype that it says could deliver a billion conversions per second.
The company says its technology doubles current ADC conversion rates, and could be commercially available by 2014. The work is actually being undertaken as part of Big Blue's collaboration with ASTRON (the Netherlands' Institute for Radio Astronomy) to develop technologies for the Square Kilometre Array telescope project.
Its goal is to produce a high-speed, energy efficient ADC for the thousands of antennas to be deployed under the SKA project.
However, it also notes that ADCs are a key component in optical communications, and says the technology would enable 100 Gbps communications (The Register suspects this must refer to a single channel, since labs have demonstrated multi-Petabit communications).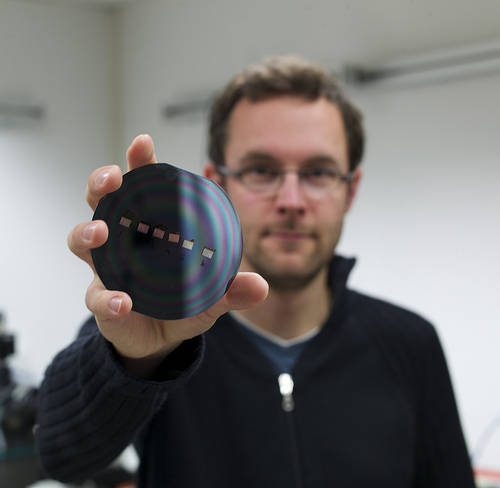 IBM researcher Lucas Kull shows off the prototype ADC wafer
The 8-bit SAR (successive approximation register) ADC fits on 22 x 70 microns, and consumes just 3.1 milliwatts when operating at a billion conversions a second. This combination of small size and high performance makes it suitable for fabricating alongside processing elements, IBM says.
Big Blue adds that small, efficient ADCs would have applications reaching all the way down to smartphones, which have as many as ten ADCs to deal with their various sensors.
"This is IBM's first attempt at designing a new ADC that leverages a standard CMOS logic process, not only resulting in the most efficient ADC in its class, but also opening the possibility to add massive computation power for signal analysis on the same chip with the ADC," according to Dr Martin Schmatz of IBM Research.
The chip was presented to the International Solid-State Circuits Conference (ISSCC) on February 20. Its original release is translated from the German here. ®
Sponsored: Detecting cyber attacks as a small to medium business