Big Blue to embiggen itself even more on your big data
Transmuting torrents of bits into gushers of cash
Reinvention and resurrection
With the initial Web explosion, IBM reinvented itself and did e-business, bringing out WebSphere middleware and, importantly, has been constantly building new technology and acquiring other bits to turn WebSphere into a portfolio of products that are still worth paying for. (Argue amongst yourselves if she is right.) And this new "smarter computing" era, driven by big-data munching, plays to IBM's strengths in systems development rather than pinpoint products. "When you tour the labs, they are systems – hardware and software, integrated together," Rometty said.
With the advent of its Watson question-answer machine a few years back and the first wave of commercialization for it, IBM is looking ahead to a "cognitive systems era" in which machine learning and multi-modal decision support systems help banks and investors make better financial decisions, help doctors make better diagnoses, help lawyers make their arguments (rather than just root around like a search engine in briefs for precedence), and help companies do telemarketing by adding computer-assisted persuasion to their call centers.
This cognitive era also involves things such as the Human Brain Project, an €1bn effort by the European Union and headed up by Big Blue, to map the human brain over the next decade, and Project Synapse, which is a neurosynaptic supercomputer being built by IBM and funded by the US Defense Advanced Research Project Agency.
In the short term, Rometty is so excited by the big-data opportunity that IBM is boosting its expected run rate in sales in its 2015 financial model such that it now expects $4bn more dough a year from sales of big-data hardware, software, and services in 2015 than it thought was possible last year. IBM had around $10bn in big-data sales in 2010, and now expects that to be doubled to $20bn by 2015 rather than the $16bn it was projecting last year.
In addition to big data, IBM is obsessed about having software – generally cloudy software – that helps companies do marketing, run their supply chains, and manage their people. "This is a front office transformation, and it is the biggest change since ERP," said Rometty.
Two things. First, under the Gerstner regime, when IBM's core systems business was under attack from so many different fronts it was worse than Napoleon or Hitler in central Europe, Gerstner stayed away from application software and emphasized services as a way to make money.
Second, IBM today is perfectly content to compete with packaged software and other people's cloudy software in the areas above, and its software portfolio has been driven by acquisitions. Ditto for systems, where it was necessary to add capabilities, such as Blade Network for switching, Netezza for data warehouse appliances, and Texas Memory Systems for flash-based server storage.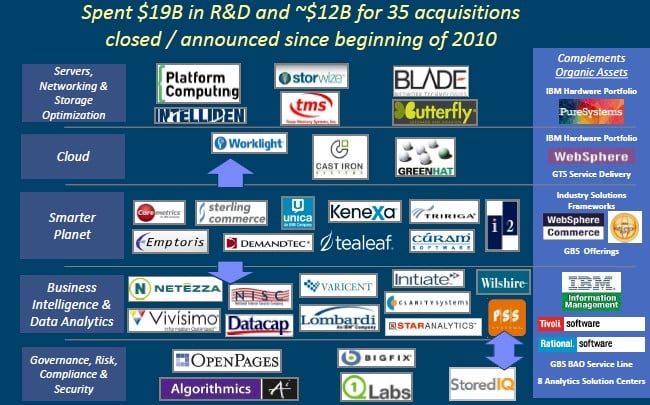 IBM has focused its 35 acquisitions since 2010 in five key areas
IBM is going to continue to be cautious about acquisitions, as well as keeping the pace up, and will divest itself of businesses that don't generate enough profits.
In the past decade, Rometty said that IBM had divested itself of $15bn in revenues, and if it had not done that it would have been a bigger and perhaps faster-growing company. "But we would be a way lesser-margin company," she said, "and I would argue that we would have capabilities that our clients would be less interested in."
On the acquisition front, IBM will play it the way it has been playing it for the past two decades, more or less. "We think companies get into trouble when they acquire something that takes them into an entirely different space," Rometty said, and in a dig at HP and its ill-fated $10.4bn acquisition of Autonomy, she said that when companies do a big acquisition to "ignite transformation," then "that's trouble."
In his presentation, CFO Loughridge said that of the 33 acquisitions done in 2010 through 2012 inclusive, 27 are running ahead of plan in terms of the profits that they are generating. Generally speaking, he said, IBM wants an acquisition to be accretive to profits in maybe two to three years, and many deals are already profitable, some of them only having been done last year.
Ironically, the trick is to use big data. IBM Research has cooked up a deal-data muncher called Prism, and has pumped into it all the feeds and speeds of the 140 companies that IBM has bought in the last decade, for which IBM paid $33bn. It includes all the data about those companies before IBM bought them and after it put them into the IBM marketing machine, which spans 170 countries. Prism helps smaller acquisition teams at IBM do better deals.
"I think everybody would agree that your odds for success are higher for ten $1bn acquisitions than for one $10bn acquisition," Loughridge explained, taking another dig at HP-Autonomy. "The difficulty is that you have to be able to put ten teams in parallel on the field at the same time. That's really a challenge."
But it's one that IBM is up for, thanks to the Prism system. Big Blue did 17 acquisitions in 2010, which Loughridge characterized as one of the most successful batches of deals that the company has ever done in its history. It is, of course, impossible to verify that, but what can be said is that IBM's software revenues and profits keep growing even though IBM is not exactly well-known for its software. ®