Big Blue to embiggen itself even more on your big data
Transmuting torrents of bits into gushers of cash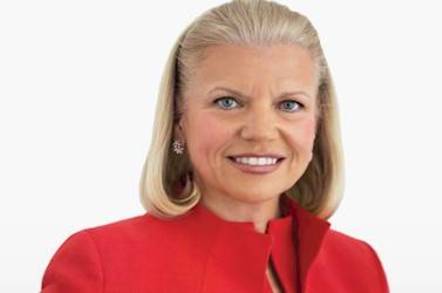 IBM hosted its annual Investor Briefing at the Almaden Research Center in Silicon Valley on Thursday, and the top brass of the company spent many hours trying to prove to Wall Street that Big Blue was not going to have another near-death experience as the IT industry goes through another gut-wrenching transformation.
Having learned its lesson during the client/server era of the early 1990s, IBM has become paranoid – like Intel has always been – and is obsessed with constantly reinventing itself in a relentless pursuit of ever-higher profits. And, explained CEO Ginni Rometty and her management team to the assembled analysts, Big Blue is not only up to the task of constantly re-engineering itself, but intends to make a business out of showing others how to do it, as well.
Rometty spoke about having met with around 500 CEOs worldwide between May and December of last year – which was five times as many as she planned to do, by the way. She said every conversation was more or less the same, starting off with politics, then moving on to the economy, then turning to the issues of productivity, and then capitalizing on "the confluence of big data, mobile, social, and cloud – all at the same time," as she put it.
"Every conversation ends with the idea that big data will be the basis of competitive advantage for every company, every industry, for the next decade," Rometty explained. "It is going to drive IT, and I think it is going to drive business and society, by the way." And to pursue that opportunity, IBM is going to be adopting a stance of "continuous transformation."
That means you are going to be on your toes and flexible if you want to work at Big Blue during the next decade.
IBM's original genius was in electromechanical tabulation and various other kinds of devices including mundane things such as typewriters and printers, and it was very much a company of engineers as the upstarts running services on hyperscale data centers are today. IBM was more about mechanical engineering than software engineering, and the engineering mindset prevailed. Neither company founder Thomas Watson nor his son Tom Jr. had engineering degrees, but the engineers have been in charge at key times in recent decades.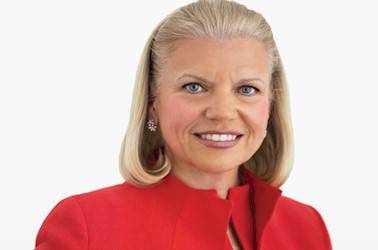 Starship Captain IBM CEO Ginni Rometty
Rometty is herself an engineer (compsci and EE, Northwestern University), and so is CFO Mark Loughridge (mechanical engineering, Stanford University). Business transformation exec Linda Sanford has a degree in math education and then a master's in operation research from RPI. Most of the of the software and systems division staffers have engineering backgrounds – and if they don't it is because they have been in the business for so long that there were not yet formal compsci degrees to get and they came to the mainframe from other fields.
It is probably not a coincidence that John Akers, who got a degree in industrial administration from Yale and who was also a Navy pilot, was the IBM CEO who ran IBM onto the rocks in the early 1990s, perhaps because he understood people and business better than he understood information technology.
Louis Gerstner, who replaced Akers from outside IBM in 1993, had an engineering degree from Dartmouth University. Sam Palimsano, who followed Gerstner and preceded Rometty, was a history major at Johns Hopkins University and also an offensive lineman for the football team who was possibly good enough to go pro. That's not quite an engineer, and it may explain why Gerstner made the financial engineering plan to keep Big Blue together, and Palmisano really followed through with the plan in the 2000s.
How relevant all of that engineering experience is may be debatable, but it's fun to speculate just the same, and an engineering degree is still one of the very best things you can have if you are going to blow your parents' dough (or your own) on the college experience. Getting into Harvard and dropping out before matriculating has worked well for some, as BillG and Zuck demonstrate. But that's not as reliable of a plan.
The point is, IBM is very keen on constantly re-engineering itself because when the company stopped doing that, it ran into trouble. That was the main message that Rometty brought home to Wall Street yesterday.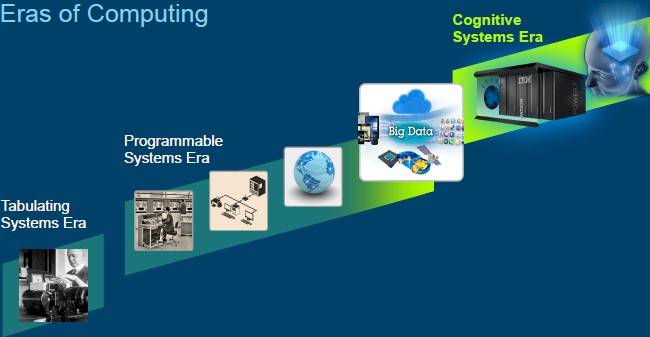 The eras of computing, according to IBM CEO Ginni Rometty
Everyone would probably agree that IBM – and more precisely its predecessor established by Herman Hollerith of Columbia University that created a working punch-card tabulator – ruled the tabulating machine and mainframe eras, at least enough to get it into trouble with antitrust authorities plenty of times. IBM had a bit of trouble during the client/server era, however, as Rometty conceded.
"We participated, we did not lead, and you will recall that era as the time we almost died," Rometty said.