Dell's PC biz craters as servers and networking chug along
Enterprise: More than a third of sales, more than half of margins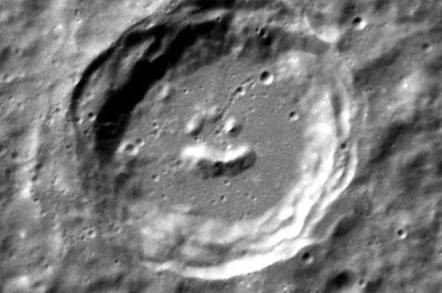 If you want a proxy for what people think about the proposed $24.4bn buyout deal of Dell by company founder Michael Dell and private equity firm Silver Lake Partners, don't look at the company's stock price, look at its financial results for its fourth quarter.
Wall Street is worried about what Dell is going to do with the PC business and do about smartphones and tablets. And guess what? Customers are spending lots of dough on Dell servers and networking, less than hoped on storage, and about what you would expect on services. But the bottom has fallen out of its PC biz.
In the fourth quarter of fiscal 2013 ended on February 1, Dell's product revenues were off 13 per cent to $11.2bn, and services revenues were flat at $3.1bn, giving the company overall sales of $14.3bn, down 11 points.
Unit shipments across all Dell products fell by 15 per cent to 9.74 million devices. Net income was off 31 per cent to $530m – but Wall Street will probably try to spin this as good news because Dell beat the Street's estimates for revenues and profits.
But the PC-business issue is a big one, with Dell's desktop PC revenues off 14 per cent to $3.2bn and mobile PC sales off an even more eye-popping 25 per cent to $3.67bn. Mobile PC sales were off 26 per cent in Dell's fiscal third quarter to $3.52bn, and desktop PCs were off 8 per cent to $3.13bn. And we know who to blame here, too: consumers. Dell said that its consumer sales were off 24 percent from the previous year to $2.8bn.
But don't jump to too many conclusions; the situation is complicated.
On a conference call with Wall Street analysts on Tuesday after the market closed, Dell CFO Brian Gladden, said that the company was under pricing pressure in both desktop and mobile PCs, and added that although the company lost market share with mobile machines, it gained on the desktop. Consumers are interested in tablets and entry (read low cost) desktop and mobile machines.
And when Dell was handed multiple settlements regarding overpriced components with unspecified vendors – worth a total of $250m in funny money – Gladden said that Dell chose to cut prices in certain segments of the commercial PC business so it could compete on price (and presumably do so out into the future because it has negotiated more favorable parts supply terms) and win back some market share.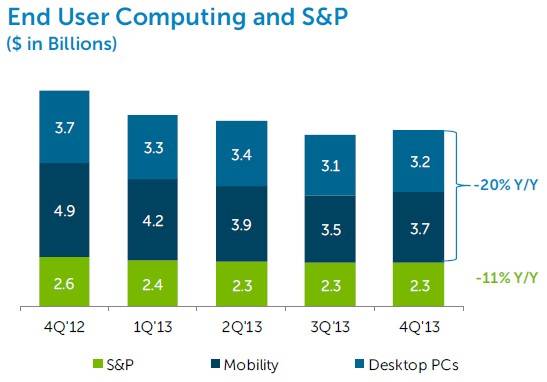 Dell's PC and related software and peripheral sales have waned
But don't think the PC market has suddenly turned around for Dell, or that the company is preparing to sell it off.
"It is going to be a competitive market, no question," said Gladden on the call. "But part of what we had to do was get ourselves competitive." H added that Dell still thinks it can "drive strong cash flow through the client business," and we all know Dell has to stay in the PC racket so it can stay in Intel's good graces and get Xeons as well as Cores at decent prices that make it competitive.
Dell is also counting on the fact that around 40 per cent of the corporate installed base is on Windows XP or Vista, and those machines will need to be upgraded sooner rather than later.
Thanks in part to aggressive sales of custom and semi-custom servers for hyperscale data centers, and the strong uptake of the company's Xeon E5-based PowerEdge 12G machines, Dell's server and networking products saw revenues jump 18 per cent to $2.62bn. Dell is also dumping in big chunks of Quest, SonicWall, AppAssure, and Scalent software into the servers and networking category, which is probably helping the compares, as did the acquisition of Force 10 Networks.
In a statement accompanying the financial results, Dell said that its PowerEdge 12G machines accounted for almost 80 per cent of server sales in the fourth fiscal quarter, and that average selling prices and margins on the 12G machines were higher than prior 11G machines. The overall server business had a 5 per cent revenue bump, according to Gladden.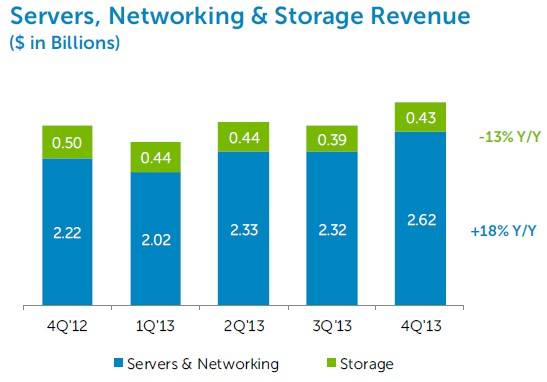 Server and networking were up, storage was down for Dell in Q4 F2013
Dell's networking business had a 42 per cent revenue bump – if you drill down into the high-performance rack, modular, and blade switches with the Force 10 brand, that business more than doubled year-on-year.
The company's own storage products fell 8 per cent, and when you add in declining sales of EMC-partnered storage arrays, revenues were off 13 per cent to $434m. However, high-end Compellent and EqualLogic arrays had a combined 20 per cent bump sequentially, so Dell is trying to feel good about that. It isn't easy, because Compellent and EqualLogic were supposed to not only fill in the EMC hole, but more than make up for it as Dell's own arrays were supposed to have a higher attach rate to its own servers.
Gladden said that Enterprise Solutions and Services, the hodge-podge commercial IT category, represented 36 per cent of sales in the quarter and well over half of gross margins. This is what Dell, the man, and Dell, the company, have been obsessed with for three years. It is debatable if those $13.7bn in acquisitions that Dell has done since its founder retook the reins in 2007 will pan out as expected. That was a lot of money to blow, but that is what IT giants do. They have to eat to live because they cannot invent everything and have first mover advantage. Or even second or third, most of the time.
One year done, another just begun
For the full fiscal year, Dell brought in $56.94bn in sales, down 8 per cent, and net income was off 32 per cent to $2.37bn. Servers and networking jumped 11 per cent to $9.3bn, but storage was off 13 per cent to $1.7bn. (You can see why Dell wants to mash this all up into an enterprise system and services group in the new fiscal year: to hide the ups and downs.) Services were up a point to $8.4bn, mobile PCs plummeted 20 per cent to $15.3bn and desktop PCs were off 8 per cent to $13bn.
Dell doesn't report operating margins by product category, but if it did there seems little doubt that the enterprise system business is propping up the PC client business, much as was the case with IBM before it sold off its PC business to Lenovo.
But before you jump to more conclusions, recall that IBM's System x server business has been losing share to Dell and Cisco Systems (and probably HP as well), and that unlike HP and Dell, IBM does not have the client platform as leverage when it does supply chain deals with Intel or AMD. Selling off the PC business may remove one set of headaches, but create another.
That's why either Dell or IBM should buy AMD and really get into trouble. Control your own supply chain, control your own fate. Even Apple should have learned that, and never partnered with Samsung Electronics in the first place. IT companies never learn.
By the way, Michael Dell did not appear on the call with Wall Street, and the company did not provide guidance for the first quarter of fiscal 2014 or the full 2014 year, given the uncertain state of the leveraged buyout. Dell doesn't want to make promises that it can't deliver on, and a cynic would say that the man with his name on the company doesn't want to give the impression that Dell might be on the mend in coming quarters and therefore drive up the cost of the buyout. ®
Sponsored: Detecting cyber attacks as a small to medium business