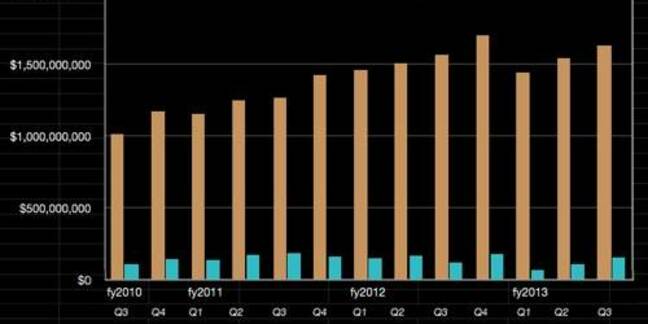 NetApp has recorded recession-proof results with increased revenues and profits, and it sees more coming as it develops a strategy of becoming a data manager for its customers, wherever that data resides.
Revenues for NetApp's third fiscal 2013 quarter, ended 25 January 2013, were $1.63bn, 4 per cent higher than a year ago. Net income for the quarter was $158m, a stonking 44 per cent higher then the previous quarter and 32 per cent more than a year ago. Well, well. No sign of revenue and profit weakness there at all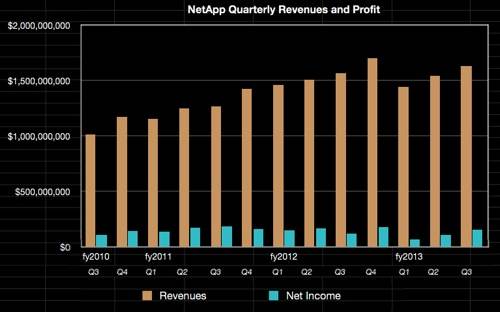 Nine months of the year are over and NetApp revenues total $4.616bn. It's forecasting fourth quarter revenues of between $1.7bn and $1.8bn, which would make full year revenues of between $6.32bn and $6.4bn. Both numbers would be larger than this fiscal 2012 figure of $6.23bn - and pretty amazing considering NetApp's abrupt revenue fall - see the chart above - from the last quarter of fiscal 2012 to the first 2013 quarter. The company has come roaring back and is set fair with high-end FAS6200 refreshes coming as well as the all-flash E-Series array.
The storage firm is benefiting from refreshed mid-range FAS 3000 arrays and growing E-Series revenue and coping with a slowdown in OEM revenues, mostly from products supplied to IBM as Big Blue focuses more on its Storewise and XIV lines and less on the NetApp-sourced N-Series.
There was a little surprise in the earnings release. NetApp has bought another company, privately held ionGrid which makes Stratos software with which mobile device users - that's cellphones and tablets - can access enterprise file-sharing. It sounds a bit like a one-way Dropbox:
With Stratos you can securely access company file servers, SharePoint sites, and other content repositories from iPad and iPhone, without ever copying any data to the cloud. View, present, and annotate your documents even if you're offline, and access business applications and other intranet web sites using your Active Directory credentials.
The amount NetApp coughed for ionGrid isn't disclosed.
Did the earnings call tell us anything more?
CFO Nick Noviello said: "OEM revenue declined 3 per cent sequentially and 17 per cent from Q3 a year ago." Hmm, is an end in sight for that IBM OEM deal?
Tom Georgens, NetApp's CEO, said: "OEM business was 12 per cent of revenue, down both sequentially and year-over-year... the 3 per cent sequential decline was greater than we anticipated at the outset of the quarter. We continue to aggressively position our solutions with the OEM partners, some looking to do less business with us and others looking to grow. … it's absolutely our aspiration to continue to grow this business. … we're still looking to add new partners, which we did last quarter." He's talking about both FAS array and E-Series OEMs here.
About NetApp's storage operating system, he said: "Almost 50 per cent of [the] installed base has moved to ONTAP 8, and half of that has moved to the rapidly expanding 8.1 release introduced less than a year ago. The adoption of clustered ONTAP is also seeing strong growth."
As customers adopt clustering, the CEO expects that they should buy more NetApp hardware: "The acceleration of clustered nodes continues, with units shipped up 70 per cent from last quarter. We now have cumulatively shipped well over 2,000 clustered nodes."
He also pretty much confirmed a new all-flash array was coming: "You can expect NetApp to be much more aggressive on the all-flash array front. Look for more news in the near future. [and] You'll see a flash announcement from us very, very soon."
Georgens also talked about NetApp's role as a data manager in an era when data is held on several places outside the storage array - in flash for example or in the cloud:
Data will be in a lot of places. It will be on-prem. It will be in service providers. It will be on flash arrays. It will be on FAS arrays. It will be in hyperscale providers like Amazon. And as far as we're concerned that what we want to do is we want to be in a position to manage all of that data no matter where it lives. … we don't make disk drives, but we do software to manage them. And I think we want to bring the AWS environment into our management domain … and use Data ONTAP as the central control point.
It seems NetApp wants to be an enterprise's data manager as well as its supplier of storage arrays. ®
Sponsored: Ransomware has gone nuclear