Intel serves flashy speed to penguins after eating Nevex's cache
Flash cache for Linux servers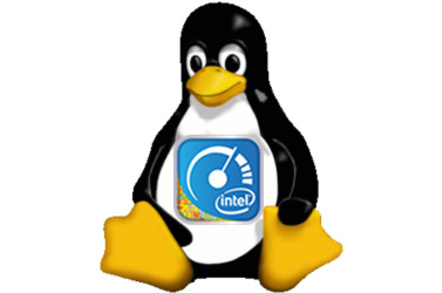 Intel has launched its Cache Acceleration Software (CAS), the renamed Nevex CacheWorks software, integrating it with its DC S3700 SSD and and 910 Series server flash card.
CacheWorks and now CAS provides a policy-based flash cache for application data stored on disk drives, utilising a server's SSD or PCIe flash card, and then applies a faster, second-level cache using the host server's DRAM, with support originally for Windows and now Linux later this month. The idea is that such 2-tier caching can be faster than using flash alone.
Intel bought Nevex for an undisclosed amount around August 2012. In February of that year Nevex and TMS did a deal for TMS RamSan hardware to use CacheWorks software. Later in the year, IBM bought TMS and so, we imagine, inherited that deal - with Intel apparently inheriting it on the Nevex side. It's an open question whether the deal will survive with Intel supplying the software to IBM when Intel has bought the software to help sell its own flash products and not IBM's.
The Nevex/Intel software is aware of certain applications and, we understand, accelerates their access to data better than non app-aware flash cache software would do. We're told individual database tables can be pinned in the cache to improve access to their data. The cache can be targeted to specific applications, files, virtual machines or, as already noted, individual database tables.
CAS will compete with other server flash caching software such as:
The coming Cachebox
EMC's VFCache
Fusion-io's ioTurbine
NetApp's FlashAccel
OCZ's SANRAD
Samsung's NVELO
SanDisk FlashSoft
Seagate/Virident's vFAS storage memory software
STEC's EnhanceIO
VeloBit's HYperCache
We think Intel wants to add value to its DC S3700 and 910 flash products rather than set the world of flash caching software on fire, as caching software is heading towards commoditisation at a fast clip. Development directions for flash caching that would avoid commoditisation include back-end array integration and/or front-end storage memory using PCIe flash to add a tier of low-access memory to servers rather than a flash cache. Which route Intel will take is unclear.
General target application areas for data access acceleration are database, OLTP, virtualisation, cloud and Big Data. Intel says CAS supports automated vMotion and Live Migration with a hot cache maintained while these are taking place. CAS and the DC S3700 and 910 flash card are available through Intel's channel but note that the Linux version of the software will be generally available within 30 days, both as an enterprise subscription and an open source release. There is a CAS FAQ here. ®
Sponsored: Becoming a Pragmatic Security Leader