Australian Parliament issues summons to Apple, Microsoft, Adobe
IT Pricing inquiry bares its fangs, prepares to bite Apple over price gouging, tiny tax bill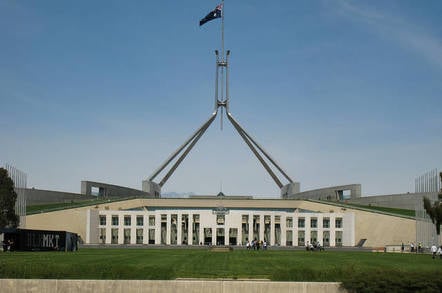 The IT Pricing Inquiry being conducted by Australia's House Committee on Infrastructure and Communications has issued summons to Apple, Microsoft and Adobe.
The inquiry kicked off in 2012 and is investigating why Australians pay more for hardware and software than those overseas.
At current exchange rate one Australian dollar buys $US1.03. Yet Australians often pay more in Australian dollars than Americans are charged in their currency.
An example of the discrepancy can be seen in the price of a 16GB WiFi iPad with Retina Display. In the USA the fondleslab costs $US499. In Australia it's $AUD539.
A year's worth of Office 365 Home Premium costs $AUD119 down under, but $US99.99 in the land of the free.
Multinational IT outfits have said Australians pay more because of local costs, but have never explained just what those costs are. Many use "transfer pricing" so their goods are legally sold in a nation other than Australia, even though their goods end up being used down under.
While the Inquiry has in the past expressed very keen interest in an appearance by three companies mentioned above, none has shown particular interest in doing so. Some have said they're happy to give evidence in private, but as is often the case with these things, the Inquiry is about being seen to be doing something as well as actually doing something.
Forcing the three to appear therefore means they'll have to explain their pricing practices in public. And they'll have to do so credibly, as the House of Representatives' powers mean "A person summoned to appear before a committee but who refuses to attend, or a witness who refuses to answer a question or produce a document, or who lies to or misleads a committee, may be punished for contempt by reprimand, fine or imprisonment."
The Reg will do its utmost to cover the March 22 hearing.
News it will be forced to appear before the Inquiry is the second piece of bad news for Apple in Australia in recent days. MP Ed Husic, who heads the inquiry, last week (PDF) asked why Apple pays so little tax in Australia.
"Australia generated over $AUD6 billion in revenue here in Australia but paid only $40 million in tax," he told Parliament last week. "People will rightly rush and point out that we tax profits, not revenue, so it might be wrong to needle that firm on this," he added, before digging into Apple's numbers and finding the company "... apparently racked up, from what I understand, $5.5 billion in costs. How? They do not manufacture here. They have no factories here. I do not know what their R&D effort is here—I do not if they are claiming that this is driving their costs up. They have got a growing number of retail outlets, which I am happy about—they are creating jobs locally; that is great—but surely those outlets do not cost $5.5 billion to maintain."
Husic also said Apple may have "a head office here, but you would not know it because they maintain a cloak of invisibility and their key management team dodge any scrutiny and refuse to even engage on public policy issues. Given the lack of work they do on that front, you would hardly say that it cost $6.6 billion to maintain a head office here and dodge that limelight."
"Apple steadfastly refuses to engage with stakeholders,"he continued. "Ask anyone who has sought answers from them about their Australian operations and you will hear a common theme: they will not talk."
Come March 22nd, that will have to change. ®
Sponsored: What next after Netezza?