Biz data-furtler CommVault reveals unexpected riches
Who says you need more than one product?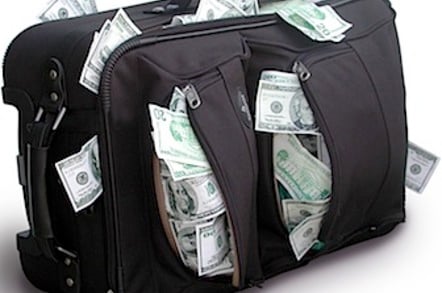 CommVault's government and enterprise customers bought its software in record numbers, leading to a spike in revenues and a sudden onrush of affection from Wall St brokers when it beat estimates for both sales and profits. That said, the firm is a one-trick pony, but what a pony; the nag just keeps on running.
CommVault produces Simpana, a data protection, archiving and management software suite. It has just certified Coraid's EtherDrive arrays, having the knack of being a desirable partner for any storage array or tape library vendor.
Total revenues for the third quarter of fiscal 2013 were $128.1m, an increase of 24 per cent over the year-ago quarter and 8 per cent more than the prior quarter.
Net income was $12.2m, $5m more than the year-ago quarter, but $1.7m less than the preceding quarter. The same thing happened to profits last year, with third quarter revenues up over the second quarter but profits down compared to second quarter profits, which may be down to increased investment in product development. "Our year-over-year software revenue growth of 28 per cent was driven by an all-time high volume of enterprise deals (transactions greater than $100,000) and outstanding execution from all of our major geographic operations," said CEO N Robert Hammer in a statement.
Software revenue in the third quarter, ended 31 December 2012, was $65.9m, an increase of 28 per cent annually, and 11 per cent sequentially. Services revenue was $62.2m, 19 per cent more annually and 6 per cent sequentially.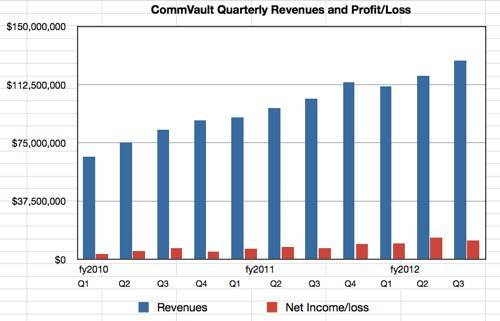 Product development is ongoing. Stifel Nicolaus analyst Aaron Rakers writes: "CommVault is scheduled to launch its next-gen Simpana 10 platform on Feb 25th in NYC. ... this includes +20 million new lines of code with significant enhancements to its core data management capabilities."
With the string of quarterly results in its 2013 financial year so far; $111.3m, $118.2m, and $128.1m, CommVault could be on track for its first half billion dollar year if the fourth quarter delivers the goods. ®