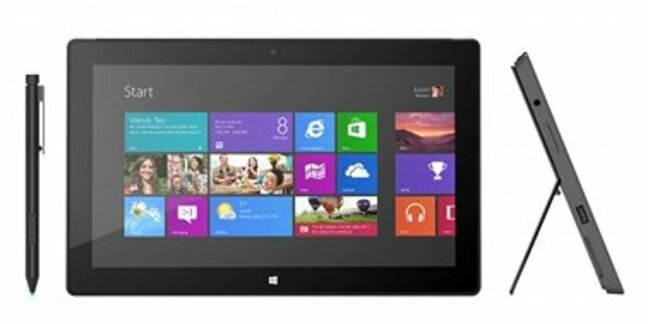 Comment There's massive internet coverage today of a major "issue" with the forthcoming Microsoft Surface Pro slab, the latest attempt by Redmond to unseat Apple's iPad line from its global tablet throne. It's being widely reported that the Surface Pro arrives with a lot of its onboard storage already full up: but this is a foolish criticism to focus on.
That's because the Surface Pro isn't an iPad, and therefore it has a storage card slot. For a small and continually-decreasing price, you can buy a microSD card and pop it in. At the moment you can get a 32GB card for less than £15, upping the baseline Pro's storage by 50 per cent. It's an XC slot, too, meaning that you can get a 64GB card if you need it (for less than £50). Some time this year 128GB cards will appear, and the format goes to 2TB so the capacities will keep on going up.
So if your Surface Pro (or your other non-Apple tablet, though there are some exceptions like the Nexus 7) ever fills up, it will cost you a trivial sum to get lots more room.
Card full up too? Buy the next biggest card and copy all your existing stuff onto it. It'll be cheap and simple. Some of us have been doing this for a while, carrying the same ever-growing load of data along from device to device, card to card. No fiddling about trying to stuff gigabytes up into cloud services through narrow pipes, no wireless transfers: just easy rapid copying from old card to new bigger card (probably using a costs-pennies USB gizmo plugged into an actual computer).
It's not so simple if you're an Apple lover. If your iOS device ever fills up, you will have no remedy but to buy a new one. The masterminds of Cupertino have just announced a new 128GB iPad, as it happens.
So let us regard the unhappy Surface Pro 64GB user of the near future as he or she quickly tops up his or her device's storage, and, grumbling, is forced to cough up £45 or less to double the machine's capacity in a trivially easy operation. It's hard to see why Microsoft even bothered having a 128GB version, really.
Now regard the much more unfortunate top-of-the-range 64GB iPadder in the same predicament. To get the same result, the downtrodden fanboi must cough a minimum £639, maybe £739.
So the story isn't "the Surface doesn't have enough storage", it's really - as it has been ever since the iPhone appeared - "iOS devices continue to lack expandable storage, and unbelievably Apple users continue to put up with it". ®
Sponsored: Webcast: Simplify data protection on AWS