Hungry investors sink $30m into cohabiting silo crew DataGravity
VCs keen to muscle in on 'potentially enormous' Big Data market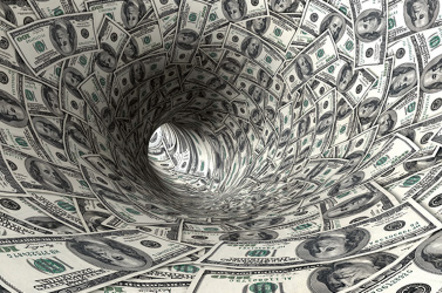 DataGravity, the data-furtling virtual-storage-tier startup led by EqualLogic execs co-founder Paula Long and John Joseph, has trousered another $30m in B-round venture funding. This comes just seven months after we learned of its existence and a $12m seed funding round. Not bad, not bad at all.
The premise of DataGravity is to form virtual storage tiers in different silos, simplifying the management of the data. The startup has also developed a process by which it harvests information from the data without having to use "complex, server-based applications". It seems it will be flogging a data management and business analytics service on the back of this, though we still aren't clear on the specifics.
The funding round was led by Netscape kingpin Marc Andreessen's fund, Andreessen Horowitz, and the cash will be used "to advance product development and to scale marketing and sales". Peter Levine, a partner at Andreessen Horowitz, was enthusiastic: "DataGravity is positioned to be in front of a potentially enormous market, and the management team's technical and operational expertise has the experience to lead it. For me, that's an unbeatable value proposition." Though MDRA*, natch.
Paula Long said: "With this funding, DataGravity will move forward in addressing the enterprise mandate to radically change the way IT extracts information from data." Well, getting the data out of virtual tiers is okay but then running the analytics on it seems to be the stretch. On the face of it Data Gravity is taking on all the other analytics companies and what experience do its staff and founders have of that business?
Maybe we're setting our sights too high and DataGravity isn't aiming to out-Greenplum EMC or negate Neteeza but simply to provide basic analytics to small and medium business that can't afford and don't want data scientists? On its website DataGravity says: "Our world-class team of engineers and industry thought leaders are hard at work building our patent-pending solution that will change how you manage your data and get actionable business intelligence." Pretty vague and we don't expect much more until a product gets closer to being tested.
Andreessen Horowitz and the other VCs have certainly been impressed enough to pony up $30m, which should pay for a few more industry thought leaders and possibly hints at hardware development, as it is a relatively large amount. As sales and marketing are also getting beefed up there must be product in the offing... what the hell else can sales sell and marketing market? ®
* Mandy Rice-Davies Applies - ie: "He would say that, wouldn't he?"