QLogic hops around, waits to hitch a ride on flash-boosted bus
If the server adapter biz won't come to the mountain ...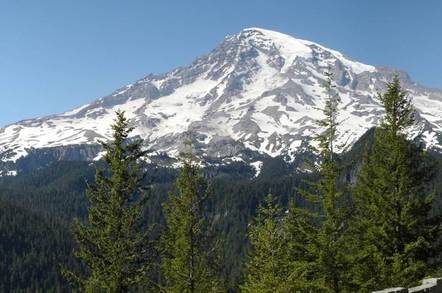 Server adapter biz QLogic is bouncing around like it often does in its third quarter, but revenues are down and it is hoping that the imminent arrival of Mount Rainier will boost to its business.
QLogic is one of the two big-time server SAN host bus adapter (HBA) suppliers (Emulex is the other), and Mount Rainier is the technology that adds a flash cache to its HBAs so they can serve SAN data faster from the PCIe card's cache than from the networked storage array their card is used to link to. That was announced at the tail-end of last year but has yet to contribute anything to QLogic's bottom line.
Revenues for Q's third fiscal 2013 quarter were $119.4m, $15.7m down on the same quarter in its fy2012 year, an 11.6 per cent decrease. Compared to the preceding quarter, when revenues were $117.9m they were up $1.5m - a 1.3 per cent rise, nothing to get excited about, especially considering that there has been a second to third quarter rise in both preceding financial years. It's a seasonal thing, in other words, often seen in mature companies.
Profits were $13.24m, grossly down on the $30m seen a year ago, but $1.37m up on the prior quarter.
The chart below shows how revenues and profits are down from last year.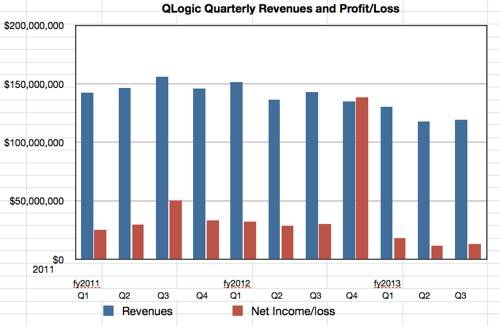 As for the product line breakdown...
Revenue from Host Products was $89.8m compared to $111.8m a year ago.
Revenue from Network Products was $20.1m compared to $18.5m a year ago.
Revenue from Silicon Products was $9.6m compared to $12.4m a year ago.
Thank heavens for network products.
We can infer that Q is marking time until a real revenue boost comes along and it must be hoping that's going to come from Rainier technology products. What did management have to say? CEO Simon Biddiscombe's canned statement said: "During the December quarter, we reported financial results that exceeded our expectations." Not very high expectations then.
In the earnings call, discussing the results with analysts, Q's CEO had to use the "jam tomorrow" tactic. How well did he do?
Biddiscombe said: "We are seeing a definite stabilisation of our business as evidenced by our results in the third quarter … As we look into calendar year 2013, I'm optimistic that we're going to see a much better year than we saw in 2012."
About the Rainier technology, he said: "We're fully engaged with a number of OEM customers evaluating the technologies and products and since our last call, we've undertaken multiple early field trials. Feedback from the customers of the EFT sites is very positive. We're on track with our plans and expect to ship Mt. Rainier based products in the coming quarters." There will be more news about Rainier products later this quarter.
The CEO said Q was increasing its spend in engineering and to counterbalance that "we're also reducing the level of spend on G&A (general and administrative expenses) and sales and marketing". He reiterated: "We're going to see this business start to grow again as we move through 2013."
He also said Q was interacting with original design manufacturers (ODMs) in Taiwan as well as talking to cloud people about Rainier technology. Rainier, he said, has a wider potential market than Q's traditional OEM customers as it is an application acceleration technology. He didn't say what that would mean in terms of channel specifics but the implication is that Q may be looking for new channel partners in vertical application areas.
The shares are up 9 per cent to $11.80, so Biddiscombe did a good job on the jam tomorrow front. But QLogic has to do very well on the product delivery front to get the shares back to the giddy heights of $18.00 last seen in April 2012.
The outlook for the next quarter is not great. CFO Jean Hu said: "We expect revenue to be in the range of $112m to $118m" - so she's expecting a decline, ranging from slight to pretty large. For 2013 to be a good year for Q, the second half of the year has to go gangbusters. ®