Apple releases iOS 6.1, adds LTE carriers, tweaks security
Also teaches Siri to spend US users' money on Fandango tix
Apple has released iOS 6.1, which adds LTE support for more carriers worldwide, but not much more in terms of features for a release that's graced with a full "dot-digit" numerical upgrade.
"Apple today updated iOS to version 6.1, adding LTE capabilities to 36 additional iPhone carriers and 23 additional iPad carriers around the world," the company said in a release announcing the update, and Cook & Co. have helpfully upgraded their lists of supported LTE networks for the iPhone and iPad to reflect those additions.
Also included in the update are a number of security improvements that make it worth the download, including kernel, Identity Services, WebKit, and StoreKit tweaks, plus the closing of Broadcom Wi-Fi vulns in the iPhone 3GS and 4, fourth-gen iPod touch, and iPad 2. That pesky Turktrust security cock-up has also been addressed.
Feature-wise, iOS 6.1 updaters will now be able to download individual songs from iTunes Match accounts, and US users will be able to use Siri to buy movie tickets through Fandango – that is, of course, if Siri can understand you when you mumble "Jab Tak Hai Jann".
As with all iOS updates, you can use either iTunes or your iDevice itself to download the latest operating system. Unless you have plenty of time on your hands, however, we highly recommend using your iPhone or iPad itself to do the deed. Here's the size of the iOS 6.1 update as reported by iTunes:

And here it is when we accessed it through Settings > General > Software Update on our iPhone 5: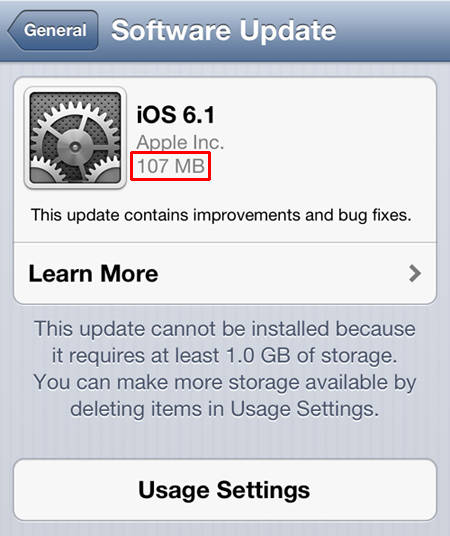 You'll also notice that you'll need at least 1GB of free storage space to complete the update process; you can clear that much either by tapping the Usage Settings button and deleting some apps on the listing that appears, or by going back to iTunes to delete tunes, videos, or other items. Caveat updator, as the Romans used to say.
After you update your device, and if you're an iCloud user, you'll also need to re-enter your iCloud password. There are also three new security questions to invent, and you'll need to add a recovery email address and respond to the standard pain-in-the-hiney email account-verification process.
Speaking of security questions, your humble Reg reporter's first car was a Pontiac Bonneville; what was yours? ®