Cisco and NetApp fatten up Flexpod, chuck it at cloud biz
Also fling out ExpressPods for branch offices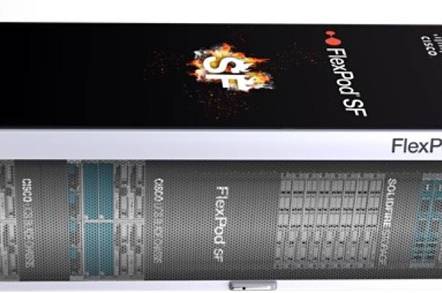 Cisco and NetApp are drawing closer together with their FlexPod converged system effort, an attempt to grab branch office, data centre and public cloud infrastructure business.
Cisco has servers and networking, which is not enough, and NetApp has storage, which is not enough either - because IT people need servers, storage and networking to work together so data can be acquired, stored, processed and delivered as speedily, conveniently and affordably as possible.
The idea of buying converged systems from a single supplier is often pooh-poohed as "proprietary", especially by suppliers who don't have the three technologies needed in-house, and the main three suppliers in that position are Cisco, EMC and NetApp. Both EMC and NetApp are trying to attract the attention of Cisco, the great converged stack prize, and hoping to be chosen as its preferred partner.
EMC and Cisco started the converged server, networking and storage stack business with VCE which delivers complete built vBlocks. NetApp then got together with Cisco and the two designed converged stack FlexPod templates, reference designs, which their partners could build, substituting and adding components if they wish. These FlexPods have been very successful; there are more than 2,100 FlexPod customers across more than 35 countries and over 700 channel partners.
Stifel Nicolaus analyst Aaron Rakers describes this as "a solid increase from 1,500 exiting the November 2012 quarter, vs +1,300 customers exiting the July 2012 quarter and +400 customers exiting the November 2011 quarter."
EMC saw this success and came up with VSPEX reference designs so that EMC's channel and Cisco's channel could do the same thing. Then EMC rather spoilt its chances after its VMware subsidiary got into networking via the Nicera acquisition - thus positioning itself as a Cisco rival... oops. Now Cisco and NetApp are embracing each other more closely and have announced an expanded partnership. It features:
Deeper integration with a common foundation for data centres and service providers, from branch office implementations to cloud-scale, multi-data centre deployments. Cisco's Unified Data Centre products, NetApp FAS arrays, and FlexPod ecosystem technology partners will be involved in this. FlexPods will be able to accommodate up to 10,000 servers with customers aggregating several FlexPod racks and enabling multihop Fibre Channel over Ethernet (FCoE), giving traditional Fibre Channel a nudge towards the exit door.
FlexPods will support Cisco UCS Manager 2.1, UCS Central and Cisco's recently acquired Cloupia products. Cisco's Intelligent Automation for Cloud (Cisco IAC) will be supported.
Deeper integration across FlexPod at the platform level, as opposed to at the component level, "will enable FlexPod to be seamlessly orchestrated by partner solutions, including Microsoft System Centre and Citrix CloudPlatform powered by Apache CloudStack." Are you listening VMware?
Flash storage will be embraced in FlexPod-land. Apps running on Flash-optimised Cisco UCS) servers will boost their flash cache use with NetApp's Flash Accel, while at the controller and array levels, NetApp's Flash Cache and Flash Pools can be used to access cached data faster. There's no word on any all-flash-array storage and FlexPods.
Massively fat FlexPods are being spec'd out for cloud service providers. They'll include clustered ONTAP arrays, UCS severs and Nexus 7000 switches, and are said to be suited to multi-data-centre service provider architectures. Users will be able to "create dynamically provisioned pools of server, storage and network resources that can be scaled up and scaled down by service providers depending on application requirements," using Cisco's Virtualised Multi-service Data Centre (VMDC) architecture, management and orchestration products from Cisco, partners like BMC Software and from open source providers in the future.
The smaller ExpressPods for branch offices also get a look in, with coming support for Windows Server 2012 Hyper-V. Are you listening VMware?
App validation efforts will be increased with support for Oracle Database and applications, SAP BusinessObjects business intelligence and the SAP HANA platform. Private cloud offerings include Microsoft private cloud and Citrix CloudPlatform.
NetApp exec vice president for product ops, Manish Goel, said in a canned statement: "NetApp and Cisco share a common vision for the future of the data centre … Our development, sales, and channel teams will work even closer to deliver new solutions that broaden the market opportunities for both companies and our partners, and help customers gain a competitive advantage..."
We can expect EMC to cosy up to Cisco on VSPEX next, with deeper integration, and maybe a smaller branded version... XpressPEX? ®