Huawei set to leapfrog Ericsson ... if the sums add up
Estimated eight per cent revenue growth is half earlier prediction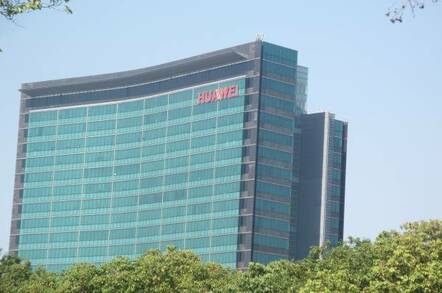 Chinese telecoms kit maker Huawei could be set to leapfrog market leader Ericsson after it estimated 2012 revenue will jump eight per cent year-on-year to 220.2 billion yuan (£22.4bn).
The Shenzhen-based company released unaudited results yesterday in which it said it expected profits to surge 33 per cent from 2011 to reach 15.4 billion yuan (£1.6bn).
Interestingly, the majority (66 per cent) of its income today comes from outside of China. Region-by-region, EMEA accounted for 77.4 billion yuan (£7.9bn) this year, China for 73.6bn (£7.5bn), Asia-Pacific for 37.4 billion (£3.8bn), and the Americas contributed 31.8 billion yuan (£3.2bn), according to Huawei's estimates.
The firm's CFO Cathy Meng, daughter of reclusive founder Ren Zhengfei, said she expected revenue this year to grow by 10-12 per cent.
The figures are impressive given Huawei's well-publicised dressing down by US investigators last year, who branded it and Shenzhen neighbour a national security risk and urged potential customers in the country to source their kit from elsewhere.
The vendors have also been shut out from national broadband projects in Australia and India.
Although rivals Ericsson and Nokia Siemens Networks haven't yet released their year end results, momentum appears to be with Huawei.
An average of 17 analyst estimates by Bloomberg predicted that market leader Ericsson will report 2012 sales of 226.9 billion kroner (£21.9bn, $34.8 billion), which would see its Chinese rival take its place by revenue.
Although 70 per cent of Huawei's revenue in 2012 came from carrier sales, it has the advantage over its near rivals of a growing handset business and a burgeoning cloud computing biz which Meng believes will be "huge" area of opportunity in the next five years.
Ericsson, by contrast, recently pulled out of a mobile phone joint venture with Sony.
Nokia Siemens Networks, meanwhile, said it had a record quarter of profitability in Q3, but with revenue standing at €3.5bn (£2.9bn) and previous quarters of €3.1bn (£2.6bn) and €2.9bn (£2.4bn), it is likely to remain a distant third in the telecoms equipment market.
Doubts remain, however, about Huawei's estimates for 2012 and 2013, given that its widely reported prediction for last year back in April was revenue growth of 15-20 per cent – a far cry from the eight per cent estimated now.
The firm's enterprise business – which grew 25 per cent in 2012 – also fell well short of the stellar 57 per cent growth predicted by an exec last year, according to Wall Street Journal.
To be fair to Huawei, CFO Meng apparently admitted at a Beijing press conference on Monday that certain execs were not able to get their annual bonus due to such failings.
That conference was the first of its kind by Huawei and shows the firm is trying to be more transparent in its dealings.
However, many will probably take with a pinch of salt any similar bold financial predictions for 2013, and wait until the firm's KPMG-audited 2012 report in April before deciding how well it did last year. ®