Oracle reveals cloudy engineered systems
Living in your own private Idaho Larrycloud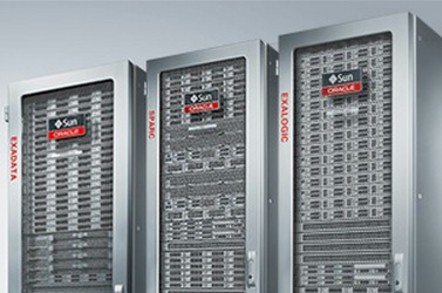 Oracle is rolling out private infrastructure as a service clouds, with capacity-on-demand (CoD) pricing, based on its various "engineered systems" setups.
Financial services organizations have very stringent – and significantly higher – capital requirements since the Great Recession. These days every million counts and any shift from the capital expense of the ledger to the operating expenses is welcomed, Juan Loaiza, senior vice president of systems technology at Oracle, told El Reg. Companies in other industry segments are equally keen to conserve cash for rainy days or acquisitions, and are therefore shy of big capital investments in IT if they can avoid it.
But like the rest of us they also want shiny new gear with that new server smell.
That's why Oracle is taking a trip back to the tail-end of the dot-com boom and rolling out a new CoD pricing program for its engineered systems coupled with a monthly cloud pricing program that allows users to enjoy Oracle gear installed in their very own data center while also enjoying economics that are similar to what Oracle will eventually provide as raw infrastructure services out on the Oracle Cloud. (Oracle offers platform cloud services for running Java applications, middleware, and its eponymous database as a service out on the Oracle Cloud, and also sells Fusion applications running in SaaS mode, but has not yet offered raw and virty compute and storage.
Oracle announced it was going to do infrastructure cloud services last October, but it has not put the raw compute capacity into preview yet. Raw storage is in tech preview, however.)
Oracle gave a preview of the privately cloudy variants of its engineered systems at the first CloudWorld event in Dubai last week; the rest of the world will get to hear all about it in an online event hosted by co-president Mark Hurd and Loaiza on January 22.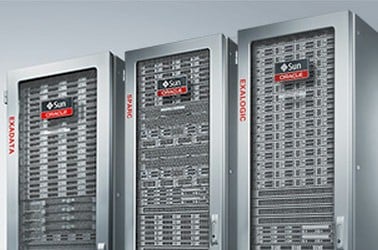 Oracle's engineered systems
Loaiza, who has been at Oracle since graduating with his master's in computer science from the Massachusetts Institute of Technology in 1988, is in charge of the mission-critical features of the Oracle database and is also in charge of the Exadata clusters.
The engineered systems that now come with cloudy pricing, he explained to El Reg, include the Exadata database clusters, the Exalogic middleware clusters, and the Exalytics in-memory database appliances, which are all based on Intel's Xeon processors. The Sparc SuperClusters, based on Oracle's Sparc T4 processors and Exadata storage servers, are also engineered systems and are also available with the special packaging and pricing. So are the Sun ZFS Storage Appliance arrays because sometimes you need external storage with brains in addition to that embedded in these preconfigured clusters.
"We're trying to bring public cloud benefits to a private cloud," Loaiza said. "This is designed to be a very financially attractive model, and it is a good deal."
The private cloud deal is pretty straightforward on this server iron. You figure out the configuration of the machine that will meet your peak performance needs. Perhaps you will need to have excess capacity during the end-of-year shopping season, or even once a quarter. Next, you configure up an engineered machine with three-quarters of that capacity and you configure it up with Premier Support, which is tech support for the iron, and the new PlatinumPlus Services, which is the quarterly proactive analysis and advisory services. The PlatinumPlus services have terms of services that are more attractive than Premier Support, including five minute fault identification, fifteen minute system rebooting, and faster escalation to Oracle development if there is an issue with the system. Oracle does all the patching on the system as well, since it knows what is on the box and configured it up itself.
Oracle bundles this all up and sends you a machine with 75 per cent of the compute capacity activated in the engineered system. All of the other features of the systems – memory, disk, and I/O – are fully configured in the box, but this 25 per cent of CPU capacity is put into stasis mode.
To take part in the private IaaS cloud deal, you have to commit to having the box on site for three years and to calculate the monthly fee that Oracle will charge you, you divide the deal price by 36 and then lop off 20 per cent. Oracle is not charging any interest, setup fees, or fees to cover the value of the latent CPU capacity shipped in the box. You can activate that 25 per cent latent capacity, and the monthly fee is directly proportional to what you are paying Oracle for the CPU capacity in the engineered system. So, for instance, if you paid $US750,000 for an engineered system plus those handholding services (with a quarter of its CPUs sleeping), you would pay Oracle $16,666 per month. If you wanted to activate the latent capacity for a month, you would pay an extra $5,555 for that month and then turn the capacity off when you are not using it.
Those prices only include the hardware and support, not the cost of Oracle software. You have to buy licenses for any extra CPUs you activate, but Loaiza says this can be done in a matter of minutes and in many cases customers have enterprise-wide licenses that let them fire up as many CPUs or systems they want.
The 25 per cent spare capacity is an all-or-none thing for a month; you can't just fire up any bit you want of that. Similarly, you can't get a cloudy private engineered system with less than 75 per cent of its CPU capacity activated. There is another twist to the deal: If you use those latent 25 per cent of the CPUs for high availability – say a node in the cluster crashes – then there is no charge to fire it up. This gives Oracle's maintenance team time to get into your data center and fix the dead node in the system while not impacting your downtime.
The deal is designed to allow customers to burn the spare capacity several times a year and still be less expensive than buying a whole machine from the get-go, says Loaiza.
The private cloudy pricing on engineered systems is available in every Oracle geography where the company can directly ship boxes, which is just about everywhere on earth. ®
Sponsored: Your Guide to Becoming Truly Data-Driven with Unrivalled Data Analytics Performance