Martian 'lake' said to hint at 'deep biosphere'
McLaughlin crater deposits suggested as proof of life-friendly groundwater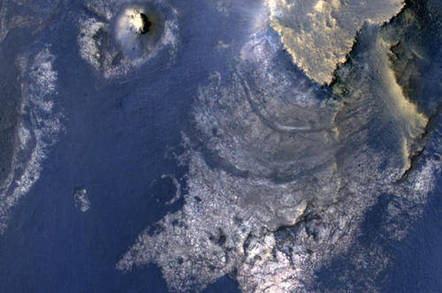 While the Curiosity rover faffs about sending its earthbound doppelganger to help President Obama be inaugurated afresh, NASA's harder-working Mars Reconnaissance Orbiter (MRO) has spotted something interesting at the bottom of a crater, namely clays and other rocks associated with terrestrial lakes and perhaps, just perhaps, life.
McLaughlin crater is the site of the find, which NASA describes as composed of "Layered, flat rocks at the bottom" which "... contain carbonate and clay minerals that form in the presence of water." The space agency also notes the crater lacks the telltale signs of a lake such as incoming or outgoing erosion channels.
But McLaughlin does have "small channels originating within the crater wall [that] end near a level that could have marked the surface of a lake." NASA's theory is that groundwater occasionally broke through the interior of the crater, ran into it and settled on the bottom for long and/or often enough to do the things needed to leave carbonate and clay deposits.
Supporting evidence comes from the MRO's Compact Reconnaissance Imaging Spectrometer for Mars (CRISM) instrument, which has in the past examined rocks thought to have been "exhumed from the subsurface by meteor impact" and found they appear to have been altered by "hydrothermal fluids."
That leaves the theory as something along the lines of "we've seen underground rocks we think might have been shaped by water and now we've seen a possible spot where underground water emerged."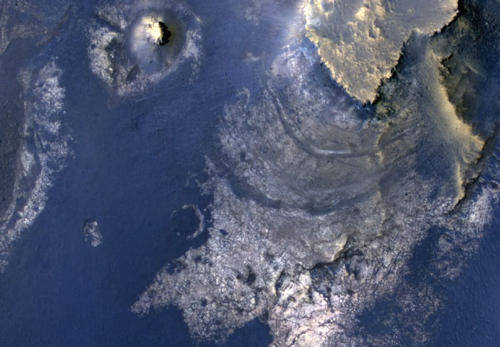 This view of layered rocks on the floor of McLaughlin Crater shows sedimentary rocks
that contain spectroscopic evidence for minerals formed through interaction with water.
Image Credit: NASA/JPL-Caltech/Univ. of Arizona
So where does life come in?
This Nature Geoscience paper, Groundwater activity on Mars and implications for a deep biosphere , suggests that the deposits within McLauchlin would be a top spot to look for signs of life as the deposits there "probably formed in an alkaline, groundwater-fed lacustrine setting" that "strongly contrasts with the acidic, water-limited environments implied by the presence of sulphate deposits that have previously been suggested to form owing to groundwater upwelling."
That's no steaming gun in the hunt for little green martians, but does sound like a decent reason to send a rover in the direction of Mclaughlin. Curiosity, sadly, is half a world away. ®