Obama calls for study into games 'n' guns link
The only way you'll get this joystick is to pry it from my cold, dead fingers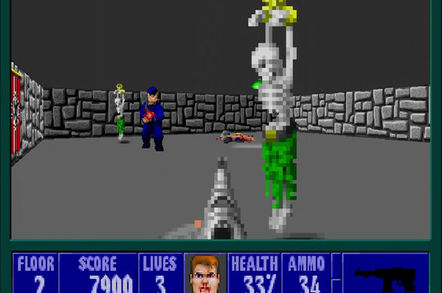 US President Barack Obama has called for a study into whether computer games are a cause of gun violence.
Obama yesterday (UK time) announced a set of measures to control guns, among them regulations to more promptly trace firearms used in crimes that will probably mean DBAs in the US public sector get a hurry-up.
The main impact on the IT&T industries will, however, come from the President's call for research into violent video games. Obama's speech included the following statement on the topic:
"Congress should fund research into the effects that violent video games have on young minds. We don't benefit from ignorance. We don't benefit from not knowing the science of this epidemic of violence."
The President's Executive Order also effectively lifted a ban on government agencies studying gun violence, opening the door to a study. Whether Congress will sign off on the required spending remains doubtful.
The games industry seems set to approve the idea. The International Game Developers Association last week wrote to Vice-President Joe Biden with the following request:
"Unlike some industry groups, the IGDA does not seek to impede more scientific study about our members' products. We welcome more evidence-based research into the effects of our work to add to the large body of existing scientific literature that clearly shows no causal link between video game violence and real violence.

We ask that any new government research look at the totality of imaginary violence. Instead of simply trying to find negative effects, we ask that any new research explore the benefits of violent video games, too. For example, recent research shows a steam valve effect in which violent video gameplay helps release stress and aggression before it can lead to violence. Others studies have indicated that recent declines in real world violence can be attributed in part to potentially violent people spending more time looking for thrills in video games instead of on the streets. Psychologists tell us that playing with imaginary violence is healthy and can help children master experiences of being frightened. This is beneficial and can even be life saving. We can supply links to this research and spokespersons on these issues. The IGDA supports good research and we ask for more science, not less."
That position may please both the Obama administration and the National Rifle Association, as the latter organisation's executive vice president of the National Rifle Association last year said incidents like the Sandy Hook murders can be attributed in part to "… a callous, corrupt and corrupting shadow industry that sells, and sows, violence against its own people. Through vicious, violent video games with names like Bulletstorm, Grand Theft Auto, Mortal Kombat and Splatterhouse."
That position didn't stop the NRA this week launching its own supposedly educational first-person shooter. ®