Iron Man to fly Chinese mobe-maker TCL around the world
China taps celebrity power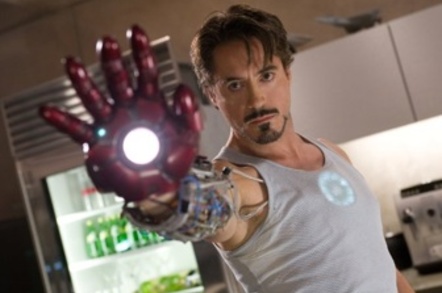 Little-known Chinese smartphone maker TCL has enlisted a powerful ally to help its nascent push into global markets: Tony Stark, aka Iron Man.
The firm said that its mobile handsets, cloud technology and smart TVs will feature in the forthcoming Iron Man 3, the first co-production between Hollywood and a Chinese studio.
Product placements are nothing new and not often the kind of thing The Reg reports on, but TCL's decision to sign the doubtless-sizeable cheque needed to get on board with the hit franchise is another sign of Chinese mobe-makers' determination to sell beyond their own borders.
TCL's mobile business was kick-started in 2004 with a joint venture with Alcatel and under the latter's brand it built an established feature phone channel and brand internationally.
According to Gartner's most recent worldwide mobile phone sales stats for Q3 2012, it currently sits in seventh place with a 2.2 per cent market share, which places it ahead of RIM, Motorola and HTC and not a million miles away from Apple's 5.5 per cent slice.
In the smartphone space the firm is further down the field, especially in the global market, but analysts believe that could change over the coming year or two as it looks to transition away from feature phones.
"Smartphones still only account for around 20 per cent of TCL-Alcatel's mobile phone shipment and I expect them to make good inroads into the global smart phone market by leveraging their brand awareness and channel this coming year," she added.
"They must tackle profitability issue and create a sustainable business model for smart phone, the direction that Huawei has been trying to move towards."
The firm is also working on a smartphone featuring a web-based Firefox OS platform.
In this context, a little more brand exposure courtesy of Tony Stark may be just the push TCL needs to raise awareness overseas, although it will likely be some time before IT managers have to modify their BYOD policies yet again.
If nothing else, the deal will raise questions about why SHIELD is happy for Iron Man to use Chinese kit when the rest of the US government is so wary of products from Huawei, ZTE and even HP-acquired H3C. ®