Ex-Doctor Who babe Karen Gillan touts dodgy diet pills in twit gaffe
Amy Pond actress tackles new kind of monster - hackers
The Twitter account of former Doctor Who actress Karen Gillan was compromised to tout dodgy weight-loss pills to baffled fans.
A series of links posted by @KarenGillan2 suggested the Scottish star, who played the time lord's companion Amy Pond, had found a means to rapidly shed pounds without the need for some Adipose treatment.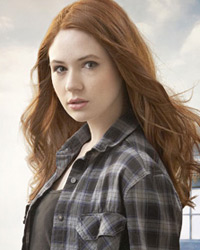 Amy Pond Karen Gillan (Credit: BBC)
Clicking on the URLs in the former model's updates took her followers to a made-up news story promoting the supposed benefits of an acai berry* diet.
Almost a quarter of a million people follow the popular actress, who recently left the hit family show. The dodgy diet tips were swiftly deleted but can be seen here.
It's unclear how Gillan's Twitter account was hacked. Phishing or malware attacks, or simply guessing a weak password, are all possible means of compromising the account. Alternatively, she may have clicked on a link or granted permission to a dodgy app that made the updates to her profile. A website used by Gillan may have been compromised and revealed a password that was also used for her Twitter login, possibly.
Recent updates to Gillan's Twitter account suggest she's regained control of her tweets after changing her password. "Hey everyone! Please ignore latest tweets! I got hacked!" she wrote yesterday.
And the actress who replaced Gillan as Doctor Who's principal sidekick also ran into trouble on Twitter: Jenna-Louise Coleman, the former Emmerdale soap star who now plays Clara Oswald in the long-running BBC sci-fi series, was the target of a sex video scam.
Twits were sent messages to trick them into visiting a bogus celebrity smut website that claimed to feature the actress. Anyone who clicked on the site's thumbnails to see more ended up following a Twitter account and posting an update further promoting the scam on their own feeds, as explained by net security firm Sophos.
None of Coleman's online accounts were actually compromised, unlike Gillan's Twitter account. Celebrity Twitter profile hijacks are all too common: previous victims have included Britney Spears (a serial victim) and President Barack Obama, among many others. ®
Foodnote
* Pills derived from acai berries supposedly cause weight loss without dieting or exercise. Acai berries do contain antioxidants and are generally regarded as a healthy snack - but actual experts (here and here) dismiss the flab-fighting claims as cobblers.