Robo-baby Diego-san shows creepy mimicry
Baby Diego the first child of men?
The first video has been released of Diego-san, a robot with the hardware and software to copy the learning behavior of a one-year-old human child.
"Diego-san was developed to approximate the complexity of a human body, including the use of actuators that have similar dynamics to that of human muscles," its creator Dr. Javier Movellan told Gizmag.
Diego-san's head uses 27 moving parts beneath a flesh-like mask which it needs to mimic the facial expressions of adults it recognizes, as a baby would. Diego-san uses software to recognize familiar objects and display a range of emotions to certain stimuli, but the goal is about IT, he said.
"Its main goal is to try and understand the development of sensory motor intelligence from a computational point of view," he explained. "It brings together researchers in developmental psychology, machine learning, neuroscience, computer vision and robotics. Basically we are trying to understand the computational problems that a baby's brain faces when learning to move its own body and use it to interact with the physical and social worlds."
Movellan developed the robotic code at the University of California, San Diego, with the facial work done by Disney alumni Dr David Hanson. Hanson, president of Hanson Robotics, has spent the last decade trying to perfect motor controls for realistic machine faces.
The head is mounted on a 51-inch (130 centimeters) skeleton with 44 pneumatic joints built by Japanese firm Kokoro and weighs 66 pounds (30 kilograms) – miniaturizing the components to actual human size proved too expensive.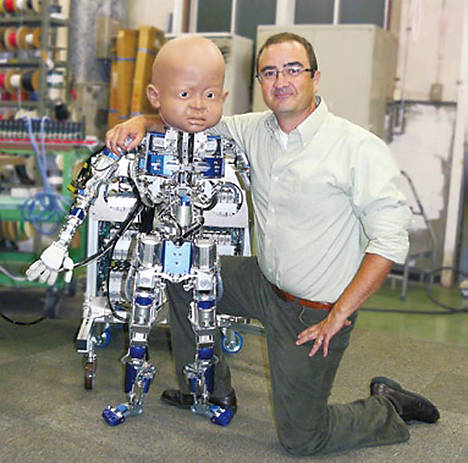 This one's going to haunt your nightmares
Don't expect to be able to buy a little Diego-san of your own any time soon however; its future will remain in the research lab. That said, in the opinion of this El Reg hack, any parent buying one of these for their little snowflake should expect a lifetime of therapy bills. ®