Time has already run out for smart watches
Ugly, limited, devices are a wind up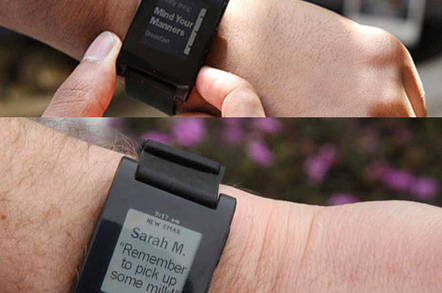 It's been a big year for smart watches.
First, rumours that Apple glanced at its wrist and imagined what an iWatch might look like hit the web. This week at CES Toshiba showed off a smart watch, as did a clutch of aspiring watchmakers like Cookoo, Martian and I'm Watch. Then the long-awaited Pebble watch with ePaper for a face finally emerged.
Analysts told The Reg none will be a hit.
"Functionality-aside, a watch also epitomizes prestige and is seen as an extension of the user's personality and lifestyle/fashion sophistication," said Tham May Ling, head of personal accessories at analyst outfit Euromonitor International.
Sophistication is something "clunky smartwatches simply do not convey," she said, adding that aside from Japan's Casio "there is hardly interest on part of watchmakers to dabble in this area."
Euromonitor's head of consumer electronics, Loo Wee Teck, feels the smart watch market just won't happen.
"Smart watches try to replicate the smartphone experience on a minuscule wrist-sized screen, which translates to inferior usability or otherwise seek to complement and extend the functionality of smartphone onto a smaller screen," he told The Reg. "Either way, users will find it frustrating to use."
He therefore predicts only niche sales for smart watches, comparing them to e-readers as a product category that might make sense to a small market for a short time.
Gartner, meanwhile, sees no likelihood of smart watch success. The analyst is on the record as predicting that "wearable smart electronics" will become a $US10bn industry by 2016 , but the full prediction sent to The Register does not mention watches among the devices that will contribute to those sales.
Analysts Angela McIntyre and Adib Ghubril believe fitness gadgets, tiny voice-activated mobile phones in form factors akin to Bluetooth headsets, gadgets like Google Glass, medical devices and something it calls "digital tattoos" will win sales. Wearable military gadgets will also emerge.
The firm nonetheless feels CIOs need to start thinking about smart devices, to understand how the data they create "can be used to improve worker productivity, asset tracking and workflow."
Another of the analysts' predictions suggests "Organizations will be able to use wearable smart electronics to improve workers' efficiency and provide fitness incentives to employees that reduce corporate healthcare costs."
That sound you hear is Reg readers proclaiming the boss can monitor their health remotely over their dead bodies, which they have every right to poison with the food and drink of their choice.
Happily, arguments about that issue won't be necessary for today's smart watches, as they can't do that kind of thing. But that begs a question about just why anyone is targeting a market with products it seems no one wants?
Euromonitor's Tham May Ling has one possible answer: she says the global watch market is worth $US56bn, a revenue stream it's surely worth trying to tap. ®