SMART, Micron 960GBs: Safe pair of NANDs or more cloud guff?
Heat-slash tech versus through-the-night endurance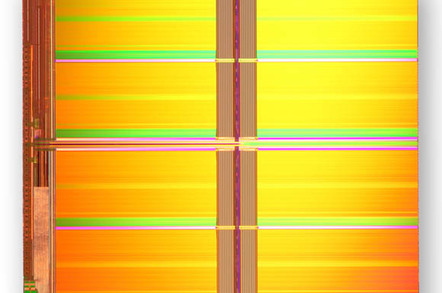 CES 2013 SMART Storage Systems and chip maker Micron have each launched new solid-state drives at this week's Las Vegas CES event.
Micron, which operates the Crucial and Lexar memory brands, has focussed on what it calls adaptive thermal throttling, which cuts the drive's workload and power consumption if it gets hotter than 65°C. Meanwhile, SMART has homed in on a lower cost of ownership, and couldn't resist slapping buzzword du jour "cloud" onto its products.
The new M500 gear from Micron is punted as a terabyte flash drive but it maxes out at 960GB. Its speed varies as its capacity rises from 120GB to 240GB, 480GB and 960GB. But its top speed, we're told, is 80,000 random read and write operations a second, and 500MB/sec in sequential read and 400MB/sec in sequential write bandwidth.
It uses a SATA 6Gbps interface and comes in three form factors - 2.5-inch, mSATA and M.2 - making it suitable for desktops, notebooks, ultra-thin notebooks, tablets, video-on-demand boxes and even embedded systems according to Micron. The M.2 form factor is a card in the shape of a stick of chewing gum that could fit inside a USB memory stick and holds up to 480GB. The device uses Micron's own 20nm 2-bit MLC NAND tech and has built-in encryption.
The adaptive thermal throttling reduces the product's activity if the temperature rises above a preset limit. This could be useful for fan-less devices, such as tablets.
SMART Storage announced the CloudSpeed 1000 and 1000E SSDs, the E promising a longer endurance. The 1000 has capacities ranging from 120GB to 960GB and the 1000E starts at 100GB and tops out at 800GB.
Both are built with consumer-grade 19nm 2-bit MLC NAND - we reckon the silicon comes from Toshiba. The cloud bit is perhaps a serving suggestion: fit the kit in a large data centre and run a cloud stack on it.
The performance numbers are near enough identical except for the random writer rate: the non-volatile memory can achieve up to 80,000 random read IOPS, 35,000 random writes IOPS, 500MB/sec in sequential reading and 450MB/sec in sequential writing. Both have a 6Gbps SATA interface, a 5-year warranty and AES 256-bit encryption.
The endurance is where it gets interesting: the 1000 series can put up with writing 3,070TB whereas the 1000E can manage 7,680TB. That means the largest 1000 can do approximately 3,200 full writes, or five a day for nearly two years. The largest 1000E can do about 9,800 full writes, giving it a five-year life at five full writes a day. Both these calculations use the 960GB and 800GB maximum capacities for the 1000 and 1000E, respectively. The hardware should be available for sampling by the end of this quarter.
SMART president said John Scaramuzzo boasted his drives will have the lowest cost per TB written in the industry. This means they are probably not the cheapest to buy but arguably may be the cheapest to operate over a five-year term. ®