IBM tops chart for churning out patents for the 20TH TIME
Today it's mostly software IP - 2 decades ago it was hardware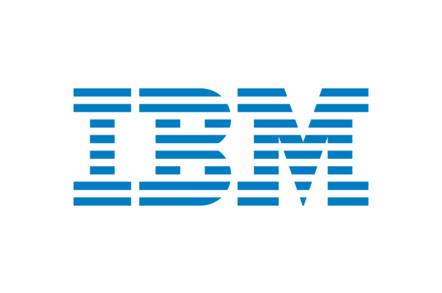 It may be arguable whether patents are desirable or over-prescribed in the high tech industry, but there is no doubt that companies use patents as competitive – and anticompetitive – weapons, and therefore they have a huge value. Applying for and receiving lots of patents, then, can be seen as an insurance policy against lawsuits as well as a means to generate them, just as much as they are an indicator of inventiveness.
For many years, the US Patent and Trademark Office issued a report in January ranking companies by the number of patents it issued to them, but back in 2007, the patent office decided to stop cranking out the list because it wanted people to stop focusing on the number of patents issued and to focus on the quality of patents issued. The simple way out of that conundrum is to hire more and better patent lawyers – perhaps with an engineering background – and stop issuing so many silly patents. Perhaps we can patent that idea.
Since then, IFI Claims Patent Services, a private company that takes the raw USPTO data and provides add-on services to it, has continued to top US patent ranking lists, and the 2012 list is out today. The rankings cover what are known as utility patents – which relate to machines or processes and can be electrical, mechanical, or physical in nature – and do not include design patents – which cover the shape of and ornamentation on things.
After doing some big data munching on the USPTO data, IFI reckons that the patent office issued a total of 253,155 utility patents in 2012, which is the highest number on record and an increase of 13 per cent over 2011's patent torrent. So much for that whole "focus on quality" thing, apparently. Of the top 50 companies to be issued patents, 41 had more patents in 2012 than in 2011 and 32 had double-digit or better growth compared to the prior year.
It will probably not come as much of a surprise to anyone that IBM, once again, is the company that had the most patents issued to it in the prior year. Specifically, IBM was issued 6,478 patents. (The IFI report does not say how many patent applications IBM made in 2012, but the number is very likely quite a bit larger.) Big Blue has been at the top of the heap for the past 20 years, and it would be remarkable if that changed. What has changed, of course, is that IBM's patents increasingly focus on software and services, not hardware, which is a reflection of the company's business as it has shifted over the past 20 years.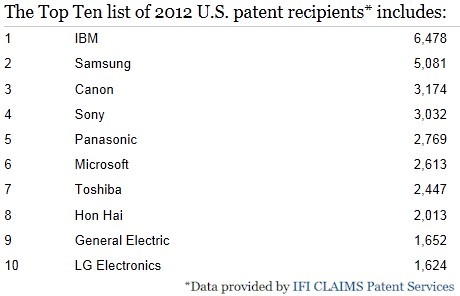 IBM is once again the top of the US patent heap, but Samsung is no slouch
IBM's incremental growth in its patent portfolio actually brought down the class average, with under 5 per cent growth year-on-year. IBM's Watson question-answer system pulled in a number of patents, including #8,275,803: System and method for providing answers to questions. This patent was filed in May 2008 and granted in September 2012, and it is specifically related to the statistical weighting system that Big Blue came up with to help the Watson machine zero in on the right responses when it was playing the Jeopardy! game show against humanity two years ago . (The chimps were chumps and they got spanked by a bucket of chips.) Other notable patents for Big Blue, which you can drill down into detail here, include methods for simulating synaptic activity in the brain, optimizing pattern recognition, dynamically placing applications in server clusters, thermo-electric liquid cooling of electronic components, and obviously many others.
Google's $12.5bn cash deal to acquire for Motorola Mobility back in May last year gave the Chocolate Factory a slew of hardware and software patents, and the combination pushed up Google patent issue rate by 170 per cent, making it the fastest grower on the top 50 list. Google ranked number 21 on the list, with 1,151 patents issued last year.
Google actually shot past Apple, which was issued 1,136 patents in 2012. Apple first appeared in the top 50 patent receivers from the USPTO in 2010, and last year's haul was 68 per cent higher than in 2011. The other big gainers on the list in the high tech arena and their growth rates were: Alcatel-Lucent (59 per cent), LM Ericsson (59 per cent), Research in Motion (49 per cent), Taiwan Semiconductor Manufacturing (49 per cent), Qualcomm (40 per cent), NEC (32 per cent), Sony (33 per cent), and Sharp (28 per cent). Cisco Systems, SK Hynix, Infineon Technologies, Micron Technology, and Nokia all saw the number of patents issued to them in 2012 fall compared to 2011.
While the number of patents issued shot up in 2012, the relative rankings of patents issued by the geographic region where companies are headquartered – an increasingly irrelevant bit of data given the multinational nature of modern large corporations – stayed the same. There were 17 companies based in the United States that made the top 50 patent issue rankings in 2012 and 26 companies from Asia, which is exactly the same as in 2011.
You can see the full IFI list of the top 50 companies by patents issued in 2012 here. ®
Sponsored: Detecting cyber attacks as a small to medium business