Woohoo! UK IT channel insolvencies plunge to pre-credit-crunch levels
Good news: Only 57 firms crashed out. Bad news: Er, 57 firms crashed out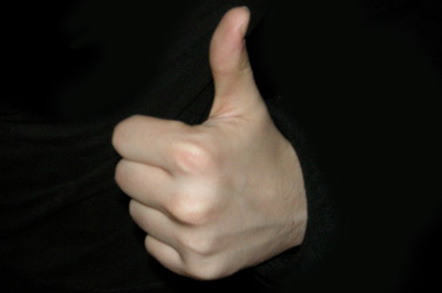 Insolvencies in Britain's IT distribution channel have plummeted to pre-global economy meltdown levels according to credit reference agency Graydon UK.
Some 57 companies went under in the fourth quarter of 2012, representing a fall of more than 35 per cent on the same period a year ago when 88 businesses went to the wall. The latest figures can be broken down into 31 voluntary liquidations, seven compulsory liquidations and 19 calling in the receivers.
"This was a significant dip," said Alan Norton, head of intelligence at Graydon. "Overall insolvencies are on a downward trend - we are at the lowest level since the first quarter of 2008."
The number of companies going titsup rose steeply in the wake of the credit crunch and peaked in Q2 2011 when 99 firms went pop.
Graydon revealed the majority of fallen firms were small biz resellers but sounded a note of caution for all firms that are highly geared.
"If interest rates rise there could be trouble ahead, some firms have high levels of borrowing in relation to their profits. Resellers must be thinking about the financial structure of their business," said Norton.
In December, analysts in the money markets said interest rates are expected to drop further from today's 0.5 per cent in mid-2014, rise back up to 0.5 per cent in February 2015, climb to 0.75 per cent mid-2017 and reach one per cent at the start of 2019.
Insolvency data for Q4 2012 has yet to be published by the UK government's Department for Business, Innovation and Skills, but in the third quarter of last year, the number of businesses crashing out fell by 2.8 per cent on the previous quarter and was down 6.6 per cent year on year.
Eddie Pacey, boss at EP Credit Management, told The Channel that banks are not lending freely and as such are "less willing to foreclose or call in loans". He explained that HMRC, which is no longer a preferred creditor since a change in the law in 2003, now forces the closure of fewer companies for non-payment or deferment of tax, while trade suppliers - keen to retain business from troubled clients - are "being more supportive" of channel firms.
Echoing Norton's comment, Pacey agreed too many companies in the channel carry unsustainable debts with "not enough control of their own working capital or management of extended payment terms".
"One needs to see constant improvement across three consecutive quarters to be able to trumpet a really positive swing," he said.
This is a salient point as 285 channel businesses went under in 2012, lower than the 356 in 2011, but still the highest number since 2003. The trend at least is moving in the right direction.
Channel partners grew ten per cent across Europe in the first half of 2012 and between five to eight per cent for Q3, according to market data from Canalys. Fourth quarter numbers are not out yet.
Alastair Edwards, principal analyst at Canalys, said that since the dotcom bust technology channel partners have become accustomed to managing their business to account for the ups and downs.
He does not foresee a spike in insolvencies in 2013 but warned of the "huge pressure" on the channel to transform their businesses from flogging boxes of products to offering services and the potential pitfalls in doing that.
"The most successful channel firms of last year tried to capture growth in services but always remembered their legacy business," he said. ®