Hunt is on for Jupiter-sized HIDDEN planets stuffed between star's belts
What happens in Vega, stays in Vega
Astrophysicists have clapped their eyes on what seems to be a massive inner and outer asteroid belt hugging the Vega star.
The finding suggests that a gap spotted between the warm and cool belts of the star could mean that multiple unseen planets may orbit it, according to astronomers who used data from NASA's Spitzer Space Telescope to discover the bands around Vega.
They observed that the data was consistent with a star called Fomalhaut, which has similar hot and cold belts that are separated by a gap. The architecture also resembled the asteroid and Kuiper belts in our own solar system, NASA scientists added.
Steward Observatory stargazer Kate Su of the University of Arizon, Tucson - who authored a paper on the topic that will be published in the Astrophysical Journal - presented the findings at a meeting of astro brains in California earlier this week.
"Our findings echo recent results showing multiple-planet systems are common beyond our Sun," she said.
Both Vega and Fomalhaut - which are each about 25 light years away from Earth - are understood to be about twice the mass of our Sun and burn a hotter, bluer colour in visible light.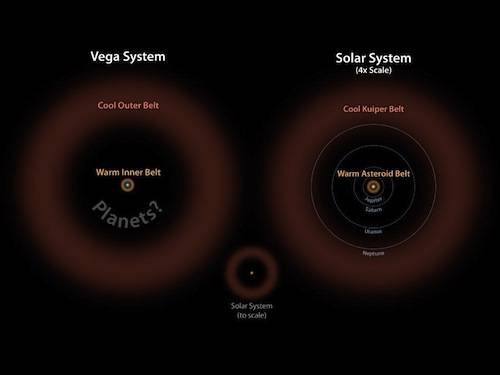 Vega - the sky's fifth brightest star - may be orbited by planets. Image credit: NASA/JPL-Caltech
The boffins explained that the inner and outer belts on those stars contained far more material than that found in our own asteroid and Kuiper belts. This is because Vega, which is estimated to be approaching its 600 millionth birthday and Fomalhaut - said to be about 400 million years old - are still in the process of cleaning up. The systems may also have formed from a much larger cloud of dust and gas compared with our solar system, the scientists said.
For perspective, our Sun is about 4.5 billion years old.
They added:
The gap between the inner and outer debris belts for Vega and Fomalhaut also proportionally corresponds to the distance between our Sun's asteroid and Kuiper belts. This distance works out to a ratio of about 1:10, with the outer belt 10 times farther from its host star than the inner belt. As for the large gap between the two belts, it is likely there are several undetected planets, Jupiter-size or smaller, creating a dust-free zone between the two belts.

A good comparison star system is HR 8799, which has four known planets that sweep up the space between two similar disks of debris.
Astronomers at the ESA Herschel Space Observatory in Europe detected the same findings, NASA said.
The stargazers said if planets do indeed orbit Vega then they won't remain hidden for long. ®