2013 in storage: Flash, file systems and... Is CDMI actually HAPPENING?
Plus - Storage arrays: The Next Generation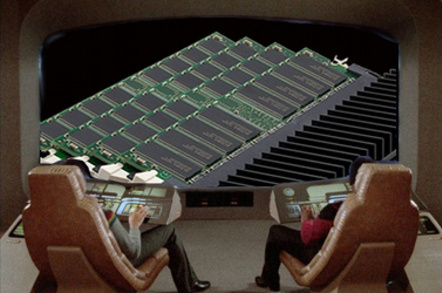 Storagebod There are a lot of things bubbling away in the storage pot at the moment and it appears to be almost ready to serve. Acquisitions are adding ingredients and we should see quite a few in early 2013 as well as firms snap up tech to flesh out the next generation of storage arrays.
Yes, we will see some more tick-tock refreshes; storage roadmaps have become tied to the Intel/AMD roadmap as they have become commoditised. So there'll be more IOPs, more capacity and more features that you will possibly never use. And the announcements will make you yawn, certainly the roadmap presentations that I have had are not exactly stimulating.
It is the flash announcements and finally shipping product that will generate the most interest; latency, long the enemy of performance and utilisation, should be slain - or at least take a bit of a beating.
The question is going to be how to implement flash and the options are going to be myriad. There is going to be significant focus on how to bring this low-latency device closer to the server. I would expect to see an explosion in cache devices both in the server but also in appliance format.
And we will finally see some all-flash arrays starting to ship from the big boys - and this will bring credibility to some of the smaller players. It is easier to compete with something than trying to introduce a completely new class of array.
But I think the really interesting stuff is going to be happening in the file-system space. Ceph will grow in maturity and with OpenStack gaining traction, expect this to mature fast. This is going to force some of the object storage vendors to move away from their appliance model and also encourage some more mature vendors to look at their file-systems and see them as potential differentiators.
The Cloud Data Management Interface (CDMI) also appears to be actually beginning to happen. I have been very sceptical about this but the number of vendors who are beginning to ship CDMI-compatible product is gaining momentum.
Another trend I am seeing is the deployment of multiple storage solutions within a data centre. Few people are currently standardising, there's a lot of experimentation and there is an acknowledgement that one size really does not fit all.
Expect a lot of pain as infrastructure teams try to make things just work. Dev-Ops teams will continue to forge ahead, traditional infrastructure teams will be playing catch-up until new ways of working can be put in place. This is not one way traffic though; expect some fun and games in 2014/2015 as some chickens come home to roost.
Management tools are going to be big again… expect lots of attempts to build single-pane of glass management tools which cater for everything. APIs and automation will be held up as some kind of universal magic toolset; expect that cauldron to bubble over and cause a mess as the sorcerer gets more apprentices who try to cut corners. ®