Curiosity gives Martian rock its first scrub down
DRT – a pretty fancy name for a wire brush
NASA's Curiosity rover has been bringing a little spit and polish to the Martian surface by using its Dust Removal Tool for the first time to scrub a nearby rock.
The spot NASA chose to clean up is a rock in the Yellowknife Bay area of Mars' Gale Crater dubbed "Ekwir_1." The rock needs to be clear of debris so that the Alpha Particle X-ray Spectrometer and the Mars Hand Lens Imager on the robotic arm can get an accurate fix on what makes up Martian bedrock.
The DRT is a fancy name for a motorized wire brush attached to the end of rover's arm, but NASA has never been one for calling a spade a spade if it has the chance to call it a "single blade vertically deployed digging unit" instead. But it works, and NASA can now make sure its sampling areas are free of detritus.
"We wanted to be sure we had an optimal target for the first use," said Diana Trujillo of NASA's Jet Propulsion Laboratory, the mission's activity lead for the Dust Removal Tool.
"We need to place the instrument within less than half an inch of the target without putting the hardware at risk. We needed a flat target, one that wasn't rough, one that was covered with dust. The results certainly look good."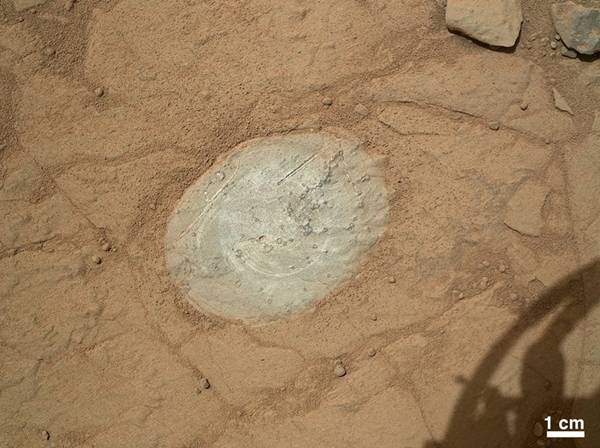 Mars scrubs up nice
The secondary purpose of the scrub-up is to give NASA scientists options for deploying Curiosity's last remaining tool for testing. Its hammering drill, which can punch down five centimeters into the surface, should get its first use in a week or so, once the right spot can be found.
Yellowknife Bay has been picked as the drilling spot because the distinctive formation, located around 650 meters away from the rover's landing spot, is made of a new type of rock, which is believed to come from an older period of Mars' history than that previously sampled.
"We're down at the very lowest layer – what would be the oldest layer that we would see in this succession that might be five to eight meters thick, and that is very likely where we are going to choose our first drilling target, because suddenly we've come into an area that represents a very high diversity of things we haven't seen before," Curiosity project scientist John Grotzinger told the BBC. ®