USB 3.0 speed to DOUBLE in 2013
How does 10 gigabits per second grab ya?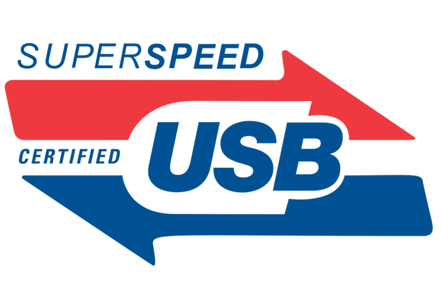 CES 2013 USB 3.0 – aka SuperSpeed USB – is set to become more super-speedy, with a new specification scheduled for a mid-2013 release that will provide a one-two punch intended to greatly improve its theoretical throughput.
"The USB 3.0 Promoter Group that defined and wrote the USB 3.0 spec is doing an amendment to the spec to increase the data-throughput performance of USB 3.0 to a 10 gigabit-per-second data rate," USB Implementers Forum (USB-IF) president and COO Jeff Ravencraft told The Reg.
That doubled clock rate isn't the only improvement in the amended spec, however. "The other key point," Ravencraft said, "is we've impoved the data-encoding capability that really drives this more-efficient data transfer that gives us the higher throughput and the improved I/O power efficiency."
USB 3.0 Promoter Group chairman Brad Saunders elaborated on that point. "We are truly doubling the clock rate and we're improving the data efficiency," he said, "so when we say that it's twice as much bandwidth or twice the throughput, that's conservative."
With both a doubled clock rate and improved data encoding, Saunders emphasized, "This is not an arbitrary statement that it's twice the speed so it's twice as much data, this is actually twice the speed plus improved encoding to effectively guarantee that we'll get more than twice as much," he said. "We are, y'know, padding it."
The new encoding scheme, Saunders told us, is fully independent of the data type, so it will benefit file transfers, video streaming, whatever. As Ravencraft explained, the ability for the new encoding to support all data types will enable what he identified as "new and improved usage models" for such data-throughput needs as reading and writing to higher-capacity storage more quickly, creating more-efficient higher-capacity hubs and other devices, and enabling heavy data-use applications such as audio and video editing.
More speed for more efficient performance for more usage models is all well and good, but don't automatically expect your current USB cables to handle the new data rates – possibly not even that 10-foot AudioQuest Coffee you just bought for five-hundred bucks.
Saunder explained, however, that it's not that current cables won't automatically work on equipment employing the new and fully backward-compatible spec. It's just that they're not certified to work – after all, you can't expect any organization to go back and recertify the approximately eleventy-squillion USB cables already in the wild.
"We're not saying those cables are crap, throw them away," Saunders said. "We're saying they haven't met the higher bar" of official certification – so perhaps that AudioQuest Coffee will work just fine on equipment employing the new 10Gbps spec.
Speaking of certification, Ravencraft also told us that the number of USB 3.0 products certified by the USB-IF and now on the market has topped 700 – a 90 per cent increase over last year.
And speaking of that market, the USB folks have painted themselves into a bit of a corner as to how they're going to brand the new 10Gbps-and-over specification. When the first 1.5Mbps Universal Serial Bus spec was formally released in January 1996, it was called – logically enough – USB. When it bumped up to the 480Mbps version 2.0 in April of 2000, it was renamed Hi-Speed USB. Then the 5Gbps USB 3.0 arrived in November 2008, dubbed SuperSpeed.
When we asked Ravencraft and Saunders what this next amended version of USB 3.0 would be called, they demurred. "Developing the brand is something we have to do in parallel with developing the spec update," Saunders told us.
May we respectfully suggest that it not be called UltraSpeed USB? Ultra has such a endgame connotation to it, and we'd like to see further improvements in the future.
ÜberSpeed? MegaSpeed? MuchoSpeed? Of such decisions are branding careers made. ®