365 days in SPAAACE: An interstellar glance at 2012
Curiosity looks for Martians, we search for a habitable planet
How Mars is a lot like Earth
Following its brief stint as a DJ, the space-truck was ready for its first long jaunt across the planet, travelling 400m to Glenelg, where three types of Martian terrain intersect. During the journey, the rover was keen to try out some more of its equipment, including its robotic arm and the science instruments on the end of it.
Halfway to Glenelg, the rover got a chance to hit another rock with its laser beams, as well as blasting it with its Alpha Particle X-ray Spectrometer and getting a close-up of the stone with its Mars Hand Lens Imager camera. The rock was named Jake Matijevic after the JPL engineer who had worked on three Mars rover missions and died just two weeks before Curiosity landed. It turned out to be composed of a material that was a lot like a rare form of mineral found on Earth, which wasn't very exciting, but then the rover started to get closer to its primary mission.
NASA reported in September that Curiosity had found evidence of a fast-moving stream, the first potentially habitable environment. Boffins reckon that the water could have been between ankle and hip height, flowing around three feet a second. The ancient water course, found between the north rim of the Gale Crater and the base of Mount Sharp, might seem like the perfect place to look for microbes, but the rover's team still believed that the clay and sulphate on the sides of Mount Sharp were more likely.
So it was then time for Curiosity to start digging around in the soil, dropping Martian dust through its chemistry and mineralogy instrument CheMin and SAM, its chemical analyst. Unfortunately, the soil sampled so far hasn't turned out to be teeming with microbial Martians. In fact, it's also quite a lot like Earth, specifically the basaltic volcanic soil of Hawaii.
The only interesting thing found in the soil were the random bright shiny bits that boffins reckon must be part of the dirt on the Red Planet. A single bit of shiny stuff that was spotted first was reckoned to be a bit off the rover, but when smaller bits kept showing up, the team decided they must be native.
Shortly after the shiny bits were announced, NASA started hinting that it had some exciting data that it needed to check again before it told the world about it. Usually when scientists say they need to check something again, they're about to announce something momentous, but unfortunately, NASA hadn't found evidence of life on Mars, instead it had found yet more evidence that its public relations are really, really terrible.
A week later, the agency got around to telling world+dog that actually, there was no news. None at all.
"Rumors and speculation that there are major new findings from the mission at this early stage are incorrect," it belatedly said, squashing all hope of any life-forms on the Red Planet for the time being.
The Goldilocks zone search
The excitement isn't all over yet though. Early this month, NASA admitted that SAM had picked up on some organic compounds in Martian soil, it just wasn't sure if they are native or not. Instead, the organics may have dropped off the rover, or could have been caused when the sample was heated for testing.
Whichever it is will have to wait until next year (or even longer) while Curiosity continues its exploration and NASA boffins keep analysing that data.
As well as searching for life on Mars, astroboffins spent the year searching for life, or a place for the human race to escape Armageddon, all over the galaxy. The quest for worlds in the habitable zone, aka the "Goldilocks zone" - where a planet could orbit its sun and potentially sustain water - was stepped up.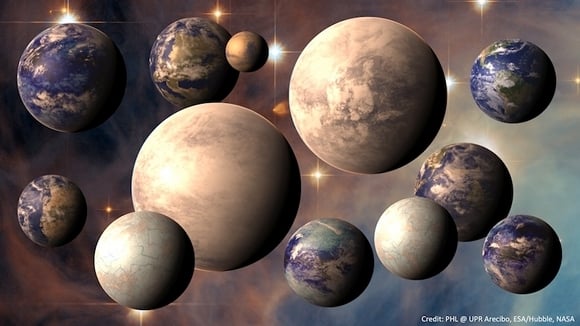 With the techniques for finding those worlds in existing and new data improving, those possible extraterrestrial homes got closer and closer to planet Earth. At the start of 2012, a six-year study said there were billions of habitable planets in the Milky Way, using the microlensing technique.
NASA's Kepler mission uses the transit method to look for dips in brightness of a star that would show a planet had passed in front of it. But PLANET, the Probing Lensing Anomalies Network, used one star as a "lens" to amplify the light from the star behind it.
The European Southern Observatory, using the HARPS spectrograph to examine 102 red dwarfs, then said that since around 40 per cent of those dwarf stars had an Earthlike rocky planet in their sweet spot, there were likely to be a hundred of them within just 30 light years of our solar system.
There are around 160 billion red dwarf stars in the Milky Way, leading the boffins to suggest that there may be tens of billions of habitable worlds in our galaxy alone.
Gas giants and super-hot planets have also been found in the right zone, although without much likelihood of life, but astroboffins are beginning to see more definite possibilities close to home.
Astronomers found a super-Earth orbiting a star only 42 light years away with a climate and atmosphere that could be just right to support life. Other scientists believe that worlds orbiting other Sunlike stars in the galaxy might actually be a tad nicer than Earth, with balmy subsurface temperatures. Seven spotted alien planets have made a new list of the confirmed worlds that could harbour life and most recently, an international team of astroboffins have found a planet in the Goldilocks zone of the nearest single Sunlike star, Tau Ceti, just 12 light years away.