Oracle's Ellison wanted an NBA team for Xmas - instead he got Eloqua
Database giant slam-dunks $871m to win cloud biz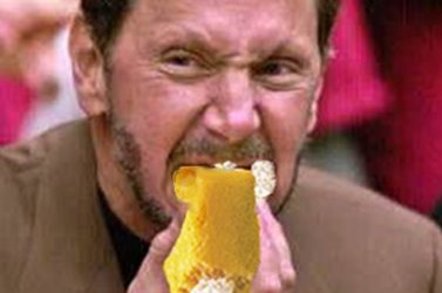 Larry Ellison has made no secret that he wants to own a professional basketball team. Now he owns a company called Eloqua, which does the marketing for some NBA teams and about 1,200 large corporations.
While that is not quite the same thing, Borg'ing small, nice software companies is certainly more Oracle's game than owning any sports team. Oracle's co-founder and CEO is already distracted enough by catamaran racing as it is.
Discussing its latest quarterly financial results this week, Oracle co-president and CFO Safra Catz bragged that the company had a big bag of cash and would not be afraid to use it.
"We now have nearly $34bn in cash and marketable securities," Catz said on a call with Wall Street analysts. "And now as we have said before, we remain committed to returning value to our shareholders through our technical innovation, acquisitions, stock repurchases, and prudent use of debt."
To that end, Oracle is buying back lots of its shares and it paying out dividends for the remaining quarters of the fiscal 2013 year this month ahead of the expected tax increases after the US government budget goes careening in slow motion over the Fiscal Cliff. And, it is shelling out $23.50 per share to buy Eloqua, an early player in marketing management from the dot-com days that has grown and evolved along with the web.
Eloqua was "founded by three guys in a small apartment in Toronto" in 1999 to automate lead generation for companies, bringing together direct mail (yeah, snail mail), email, web, and live chat analytics into a single platform. Those three guys are Mark Organ, Steven Woods, and Abe Wagner; Woods is still the company's CTO, but Organ and Wagner are no longer on the management team.
Eloqua eventually moved its headquarters to Vienna, Virginia, and went public on the Nasdaq in August of this year, raising $92m. Eloqua's shares were trading at $17.88 per share as the market closed yesterday, so Oracle is offering a 31.4 per cent premium for Eloqua and net of cash, Oracle is paying $871m to take over Eloqua.
The main reason why Oracle needs to do that is to build out its cloud, which accounted for $230m in revenues in the latest quarter. Eloqua doesn't license its software, but rather runs it on its own cloud and peddles it as a service at prices that start at $200 per marketer per month.
Eloqua's revenues were up 40.5 per cent in 2011 to $73.3m, and growth has been accelerating. In the trailing four quarters, Eloqua has raked in $90.1m and booked a loss for those four quarters of $58m, which is rather dramatic. But $49.1m of that was a charge for accretion of redeemable preferred stock expenses, a one-off that hit the books in the wake of going public but is not reflective on the underlying business.
In early November, Eloqua filed a statement with the US Securities and Exchange Commission for a follow-on offering of 6 million shares, which was to be sold by Eloqua's shareholders and which was not going to yield any dough for the company itself. Eloqua was sitting on $85.5m of cash as the September quarter ended and was not hurting for money.
Eloqua's board of directors has approved the acquisition by Oracle, and the deal is expected to close sometime in the first half of 2013. Oracle's Thomas Kurian, who is vice president of development at Oracle, said in a statement Eloqua would become the centrepiece of its "marketing cloud."
The Eloqua cloud has about 100,000 users across those more than 1,200 customers, and will fit alongside Oracle's homegrown commerce, social marketing, sales, and services modules in the Fusion app stack running on its cloud as well as the Endeca content management app that Oracle acquired to manage the entire customer experience from lead generation through sales and to product support.
Eloqua offered a set of APIs that allowed third parties to create and run add-ons to its eponymous lead and demand generation apps, and Kurian said that Oracle remains committed to keeping the Eloqua AppCloud open and accessible to third party sales automation tools.
The interesting bit is that Oracle itself is not one of Eloqua's marquee customers, but rivals Dell and Hewlett-Packard are. But that will no doubt change. ®