Want your social media to swing? First, get the staff onboard
The more the merrier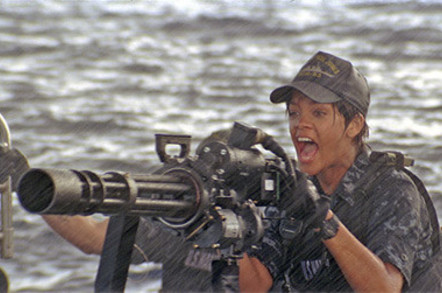 Social networking clearly has the potential to totally change the way we work, especially in large or widely dispersed organisations.
It might actually allow companies to see our natural inclination to share information (the technical term is "gossip") as a business tool, rather than a drain on company time.
However, more so than with any other IT project, it will work only if people use it. If your adoption rate is stuck at 10 per cent, the whole thing is dead in the water.
Experts estimate that adoption rates of enterprise social networking tools have to hit 30 to 40 per cent before the network has enough gravity to draw everyone else in. So how do you boost adoption?
One obvious way to start is to use your chosen social media platform to carry out business essentials such as booking meeting rooms or claiming expenses.
If you are not feeling quite that draconian, however, Martin Blackmore, EMEA director sales for applications  at VMware, offers a slightly gentler example from his customer casebook.
Knowing me, knowing you
"Publishing houses are not noted for their high technology adoption rates," he says. "But newspaper publisher Archant wanted to get more staff to use the Socialcast platform, so CEO Adrian Jeakings declared one Friday afternoon to be Profile Day."
Jeakings asked everyone to down tools and spend the afternoon filling in their personal profiles and subscribing to streams that seemed interesting to them. He even hired a photographer to come in and take casual shots of staff that they could upload to their pages.
By the end of the day, more than 1,000 staff members had active profiles. Sign-ups continued and now more than 1,400 employees use the system.
Maintaining high rates of adoption in the long term, though, comes down to using tools where they are needed: groups to share day-to-day business information, project-specific streams that people can subscribe to for limited periods, closed groups for management to discuss strategy, open groups for broadcasting company news, and so on.
"It can be a rich way of getting groups to collaborate," Blackmore says
And once people are on board, social networking can make other aspects of business easier, says Marc Wright, chairman of consultancy the simplygroup, which specialises in the internal corporate use of social media.
He tells the story of a client of his at Capgemini who needed an expert in QR codes (those scannable barcodes on everything from cereal packets to magazine covers) for a pitch he was working on.
Locating people with such specific expertise usually takes time, but because the client was able to trawl the social network's "knowledge" – both of people's listed interests and their posting histories – he was able to find five candidates with the skills he needed. Within two days, one of them was working on the newly won contract.
Wedding planners
The first projects the experts have in mind as beneficiaries of a touch of added social networking will be in change management.
For example: imagine company A and company B are merging. The way things are run now, the internal comms teams will post loads of information on the intranet, hang posters about forthcoming changes in the offices and so on.
But this is driven by the management and is all one-way communication. Adding a social dimension can help people through a restructuring process, allowing information to flow more naturally in both directions.
"The more you talk about it, the easier change becomes," says Wright. "Social networks are great for delivering top-down messages, yes, but really enlightened organisations will use them to adjust messages to help people understand a situation better, and even adjust a policy that looks like it won't work."
Under the guidance of Wright's firm, Lloyds and HBOS banks used social networking during their merger – something of a shotgun marriage by any standards.
They posted the proposed changes to the terms and conditions of employment and invited feedback. They had such a big response that they had to hire 24 graduates to analyse it and report daily on employees' concerns.
People were concerned about things like commuting distances
"It was hard to harmonise the T&Cs of employment. We had five unions involved and 130,000 staff members," Wright says.
"It let us see that while the unions thought certain changes would be significant obstacles, in fact people were more concerned about things like commuting distances and the company was able to respond to those concerns. It was a good way of reaching agreement, and eventually 85 per cent of staff voted for the changes."
Blackmore concludes that internal social networks have taken the ability to communicate and collaborate to a new level. In many instances they are proving to be an effective way of building teams and getting the best from employees.
For him, it is resolutely not about the technology. It is about getting to grips with how you drive adoption. It has to work for the end-user.
After all, even email is useless if you have no friends. ®