Review: Samsung Series 9 super slim notebook
An ideal Win 7 machine, get it while you can
A process of refinement
There are other changes. The most important peripheral ports are no longer hidden by a door - the USB, mini-Ethernet, HDMI, USB and audio ports are always accessible, on the left of the machine. A nice touch is the mini to regular Ethernet adapter included in the box. A bay-style housing is still present, used to cover the SD card slot when it's not in use.

Port covers are out...
Software includes a backup program, a configuration manager, and Samsung's Fast Boot. Which does what it says on the tin: bringing you to the login screen in around 10 seconds. The only nagware is Norton's anti-virus software.

...easy access is in
Battery life was terrific in real life, giving over 5:30, and typically well over 6 hours in real-life usage, with WiFi on. The display is, as you would expect from Samsung, quite splendid, and as close to matte as you can get these days without actually buying a ThinkPad.

One of the thinnest 15in ultraportables you can buy
The only let down is the keyboard. This is fine by any other standards - but it has a rather tinselly feel, and in such an otherwise well-made machine, was a little incongruous. I should stress, I've used many worse keyboards. And I did like the illuminated indicator light inside the keys for CapsLock and Wi-Fi. Why has it taken laptop manufacturers 30 years to include this on laptops, when regular keyboards have had this for so long?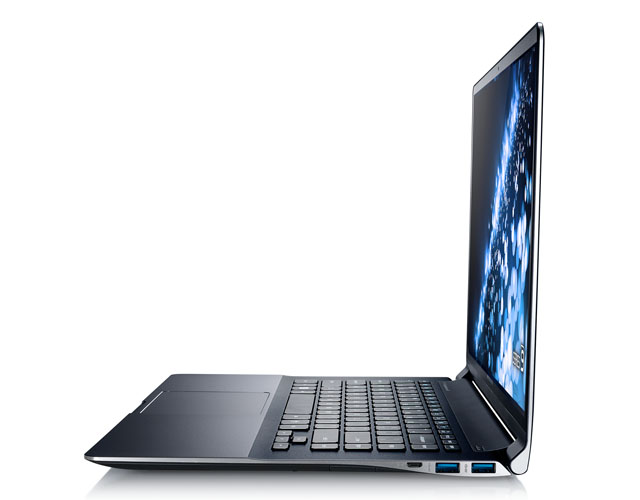 If Windows 8 worries you, this Windows 7 model is worth seeking out
Verdict
All in all, the Series 9 is a very well made laptop, with many small but significant improvements made over a year. The question remains – do you want to throw approaching a grand at a 15in laptop when you can get one cheaper? When I posed that question a year ago, those willing to make the investment appeared to be professionals who need to make a statement: a salesman or business owner pitching for some big contract. But it's a question that's much easier to answer this year: the matte-ish expansive screen, slimness and excellent construction make it a very good piece of kit with a broader appeal. Even more so with Windows 8 coming in, so it's worth shopping around for a bargain. ®

Review: Samsung Series 9 super slim notebook
Thin, light 15in ultraportable featuring an Intel Core i5-3317U CPU, 128GB SSD and a 1600 x 900 resolution screen.