Pica8 bundles up OpenFlow controller, switches for SDN newbies
Making software-defined networks easy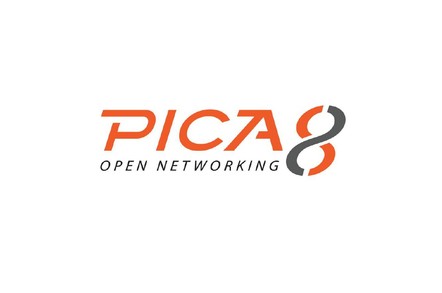 Ethernet switch maker Pica8 was one of the vendors that first jumped onto the OpenFlow software-defined networking bandwagon. But with all the major switch makers making noise about how they are doing SDN, Pica8 has to do something. Its rivals are setting up SDNs using open source OpenFlow virtual switches or controllers or by tweaking their existing network management tools to break the control planes from the data planes in their switches and routers. So Pica8 has bundled up its switches with the Ryu open source OpenFlow controller and the Open VSwitch virtual switch to create a complete SDN stack.
The great thing about OpenFlow is that you don't have to buy all of the components from a single vendor. You can buy physical switches from a bunch of vendors, use a variety of virtual switches tucked into different hypervisors, and use any one of a number of network controllers and as long as they all support the OpenFlow protocol, you can virtualize your network and make it programmable so it can be reconfigured on the fly when network conditions and workloads change.
Pica8 is not new to OpenFlow. The company launched a family of OpenFlow-enabled Ethernet switches in August 2009 and has been selling products for the past two years. It has its headquarters in Palo Alto and its development lab in Beijing, and in October it raised $6.6m in Series A funding to ramp up sales and development.
Stephen Garrison, vice president of marketing at the company, tells El Reg that the company has more than 100 customers, many of them large service providers and hosters, and is looking to break into the North American market in a more significant way. And it is not going to do that by focusing on hardware, but rather on software.
The PicOS switch operating system that the company has developed is, as you might expect, based on the Linux 2.6 kernel, which is then hardened and extended with network and switching services. In July 2011, Pica8 added support for the open source "Indigo" OpenFlow stack from Big Switch Networks to its switches as an alternative stack, and in November 2011 it embedded Open vSwitch, developed by Nicira to be a virtual switch for hypervisors, into PicOS so it could do more sophisticated network management from inside the switch. OpenFlow only changes the forwarding tables inside the switch, but by putting OVS in the switch, you can reach in and change packet sizes and do other kinds of shaping inside the switch that you also do inside the hypervisor when you embed a virtual switch there.
What is also unique about PicOS, says Garrison, is that it has a hardware abstraction layer that lets it run atop networking ASICs from Broadcom, Marvell, and Intel/Fulcrum. So it can be agnostic about the underlying hardware and, more importantly, not tied to it. At the moment, the switches that Pica8 is selling are based on Broadcom's "Trident+" ASIC. The company has a Gigabit Ethernet switch with 48-ports and four 10GE uplinks and a 10GE switch with four 40GE uplinks.
Pica8 has chosen Chinese ODM Quanta – a favorite of the homegrown server crowd – to build its switches, and importantly says Garrison, Quanta is also a strategic R&D partner. "We have no intention of developing hardware," says Garrison. "We just go to Asia and go shopping."
The ties to Quanta run a little deeper. A week ago, Pica8 hired Henry Pan, who was director of sales at Quanta, to be its vice president of sales and operations in Asia. Baidu and Yahoo! Japan are two of the company's signature customers, so Asia is not just important for manufacturing, but for sales. And those are exploding, according to Garrison, doubling every month as a hot young start-up often does.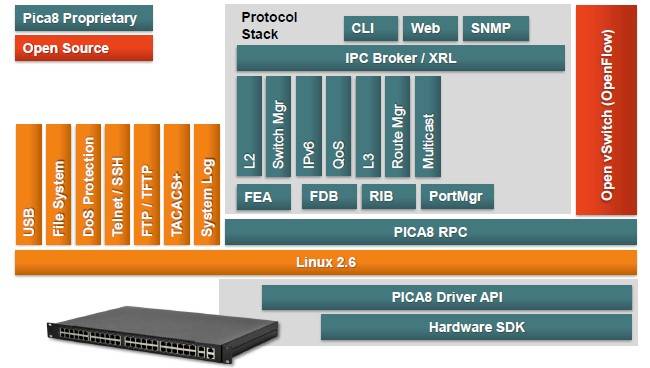 How Pica8 weaves SDN into its switches
"The problem with SDN right now is people don't know where to start," says Garrison. So Pica8 is helping with a bundle of switches and open source software and reference architecture recipes to get them going. So Pica8 is stacking up OpenFlow 1.2 implemented in Indigo, Open vSwitch 1.7.1, and the Ryu 1.4 OpenFlow controller (which runs on an external Linux server to remotely manage forwarding tables) to create a bundle. All of that software is free, so all you have to do is shell out between $3,000 and $20,000 to buy a Pica8 switch and download the code.
While in theory Pica8 could hack its PicOS operating system onto other switches – or open up its Linux extensions so other could do the hacking – that doesn't seem to be in the works. "There will be a mix of other virtual switches and controllers, but guess what? It is still going to be our switch," says Garrison. Exactly which open switches and controllers Pica8 might adopt is not clear. But the Ryu controller championed by NTT Laboratories seems to be a safe bet for now, and Open vSwitch, even if it is controlled by VMware now, seems to be the favorite. ®