Review: Apple Mac Mini 2012
Nice media centre, shame about the HDMI glitches
Condensed soup
Apple is generous with ports too. In addition to those I've already mentioned, there are four USB 3.0 ports and even Firewire 800. There's an SDXC slot, though it's positioned round the back so you're probably not going to enjoy swapping cards from cameras in and out of it. Gigabit Ethernet is included too, but that's only to be expected, as is 802.11n Wi-Fi, though it supports both 2.4GHz and 5GHz bands, which isn't something you'd expect for a nominally low-cost, small form-factor desktop. It's capable of speeds of up to 130Mb/s.

Apple is generous with ports
The Mini has Bluetooth 4.0 too, but who cares much about that these days?
In use, the new Mini runs wonderfully quiet. With a 2.5GHz Core i5-3210M processor capable of peaking at 3.1GHz, it's reasonably nippy for a general purpose desktop or media player too. Gaming? Not so hot. I ran Doom 3 – by no means a new game – and got 44fps in its timedemo test at the TV's native 1920 x 1080 resolution. Playing it, I saw a great deal of view tearing - much, much more of it than I see in my three-year-old 2560 x 1920 iMac at work, though that has a discrete GPU on board, of course. Maybe Intel's driver update will improve matters. For now, though, this is not a games machine, not if your ambitions extend further than Angry Birds.
Geekbench 2.0 Results

Longer bars are better
Another (small) flaw for me is the 500GB 5400rpm hard drive that Apple bundles. It's not a bad drive, but I've grown accustomed to the speed of an SSD.
I do think, for a machine costing more than £500, Apple could have included 8GB of 1600MHz (PC3-12800) DDR 3, not half that. But credit where it's due, Apple makes it very easy for anyone to open the Mini: just rotate the plastic base 20° or so and off it slips, exposing the two notebook Ram slots. A couple of 8GB Dimms will set you back around £62 from a third-party memory seller like Crucial.
Removing a quartet of torx screws flips off the Wi-Fi antenna unit to reveal the hard drive, and it's relatively easy to slide out the motherboard and replace the drive. If only; in fact you have to remove the fan and some plastic cowling and only then can you lift and slide the Airport antenna free and slide out the hard drive.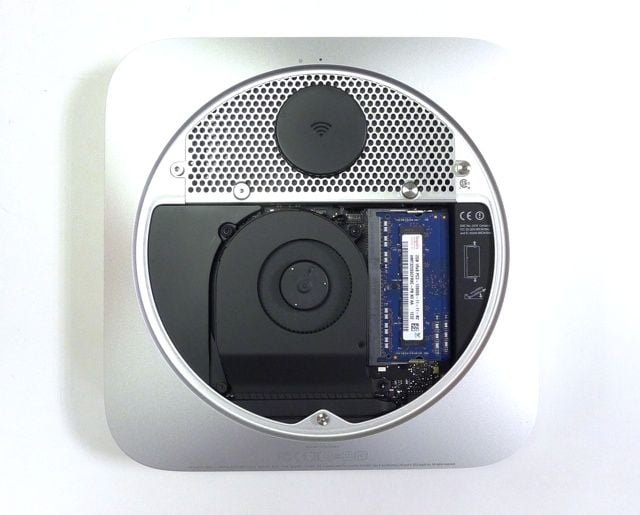 Opening the Mac Mini is easy...
Getting all back is even trickier, but not beyond the bounds of most hardware tinkerers.
With either the original drive or a new one, you'll be running Mac OS X 10.8 Mountain Lion, and you'll get Apple's iLife bundle too. Whether that's a valuable edition is entirely subjective, likewise the many apps and utilities that come with OS X itself. Other apps will have to be installed from downloads or Apple's own App Store, since the Mini lacks an optical drive. Apple will sell you it own external Superdrive, or you can choose from an array of third-party drives.
But OS X remains one of this box's selling points. If you're going to run Linux on your media machine, you may as well buy a cheaper alternative from one of the many less well known Asian vendors who offer this kind of product. If you don't like paying for a smart looking box, or for a unit without an optical drive, ditto.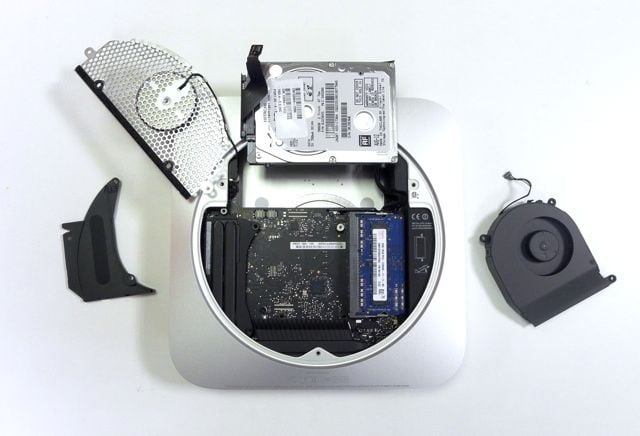 ...getting to the useful parts is a little more tricky
The Reg Verdict
The woeful HDMI performance means I really can't give the 2012 Mac Mini the thumbs up. If Apple fixes this serious issue soon, I'll change my mind. I do like it. It's stylish, and while you might not want to pay extra for a good-looking box, you'd surely not say no to one all things being equal. It is rather swish sitting next to a telly. The Mini offers a decent spec with excellent connectivity, and I'd much rather run Mac OS X Mountain Lion than Windows 8, though it's compatible with the Microsoft OS through its Boot Camp feature. ®
Thanks to Square Group for the loan of the Mac Mini.
Sponsored: Practical tips for Office 365 tenant-to-tenant migration

Review: Apple Mac Mini 2012
Compact desktop Mac with an elegant design, a choice of third-generation Intel Core i5 and i7 processors, optional hybrid SSD/HDD storage and - for now, at least - HDMI glitches.
Price:
From £499/$599 RRP