Twenty years of text messages: We've reached Peak SMS
Expensive, truncated emails finally plateau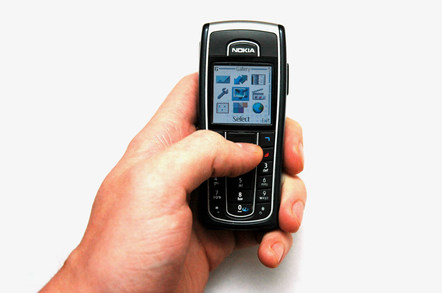 The first SMS text message was sent twenty years ago, when Neil Papworth sent a Merry Christmas to a mobile phone, an innovation which went almost unnoticed for the next half-decade.
The Short Message Service took a while to take hold, longer still before network operators realised what a cash cow SMS could be, and longer again before they noticed SMS was proving to be one of the most disruptive technologies ever to hit telecommunications and one whose implications they would live to regret.
SMS wasn't the first text-messaging system. Messaging pagers had been about for years, some of which could send and receive as well as confirming receipt (a key capability), but the store-and-forward architecture of SMS, based around interconnected SMS Centres (SMSCs), promised network interoperability and - most importantly - the ability to attract customers with pagers in their pockets who didn't want to give up their word-based world.
The first message, sent by the good Mr Papworth, came from a PC connected directly to an SMSC so as to test only half the connection - arguably not an SMS at all, though it's safe to assume that handset-to-handset messaging was tested almost immediately afterwards.
But network interoperability didn't come for years, and even then it arrived in fragmented form. In 1996 I was tasked with creating a cross-network SMS-delivery platform and ended up with a proof of concept using a PC plugged into three handsets, which could collect e-mailed messages, work out which network they should be sent to by the area code, and send them out.
This obviously didn't scale well, so we approached the network operators all of whom offered dial-in access to their SMSCs. Vodafone, Orange, and mmO2 were trivial to interface with, offering easily-automated text menus, but One2One was so complicated that my mate Ian had to be drafted in to help write the code.
The idea was to send out sports scores and the like, though we'd have been fools not to realise that advertising was the inevitable conclusion, and the prototype was flogged to News International by the ever-opportunistic John Paleomylites. What's most strange, in hindsight, is that none of the operators tried to charge us for the access, neither did it ever occur to us that we'd have to pay.
Operators were incredibly slow to realise the potential of SMS, which exploded once proper interoperability was in place. The fixed-price nature of SMS appealed to a new class of mobile user who was paying their own bill rather than claiming it back, while operators found revenue flowing in from what they'd considered an engineers' hobby at best.
But the SMSC could do more than carry messages. It creates fixed-value events recognised by the billing system, and as such can be used to charge for anything. Operators keen to increase text messaging jumped into revenue-sharing arrangements. Ten years ago Vodafone was offering four pence (of the ten-pence rate) to anyone who could generate half a million texts a month, in the knowledge that once a customer had sent one message they'd almost certainly send more, but it was Premium-rate texting which really enabled a revolution.
Nokia created EMS (Enhanced Messaging Service) which could encode basic ringtones into 160-character messages, but Premium-rate texting enabled someone selling that tone to collect 73 pence on every pound, and with copyright largely ignored by suppliers who'd cease to exist at the first whiff of court there was a lot of money to be made.
Ringtone shops were the first proper OTT (Over The Top) providers, beating a path followed by Apple, Skype, WhatsApp and so on, as operators are reduced to collecting the money, at best.
Premium-rate texting also enabled TV to be funded though text voting, with early seasons of Big Brother financed entirely from texted votes; the advertising shown during the show being pure profit. Punters rushed to have a message scrolled across the bottom of the screen, in the middle of the night, probably read only by the O2 engineer who sat up all night taking out the swearing, for which they were paid a pound a time.
The simplicity of the SMSC prompted all sorts of services to be linked into it for billing, as operators sought to expand their offerings but remained justifiably scared of prodding billing systems which were, by this stage, creaking monsters. These days most operators have bitten the bullet and upgraded their billing systems, so can charge users in more-inventive ways than sending them a reverse-charged text message.
Like voice minutes the quantity of text messaging is now at a plateau if not slowly declining as social networks become ubiquitous, though Ofcom reckons we're still each sending 50 a week so the format isn't dead yet. SMS was certainly intended to replicate the functionality of a pager, though it ended up being far more than that if opened the way for third parties to sell direct to end users - something network operators have lived to regret despite the money-for-nothing they've enjoyed for at least the last decade. ®
Sponsored: Detecting cyber attacks as a small to medium business