TomTom for Android with hands-free kit review
A step in the right direction?
Pay and display
Once installed and the maps downloaded onto my phone's microSD card – a four hour process thanks to the 3.5GB Europe-wide maps package on offer for review – the app turned my phone into a very convincing imitation of a fully functional TomTom PND complete with such fripperies graphical lane guidance and street name enunciation.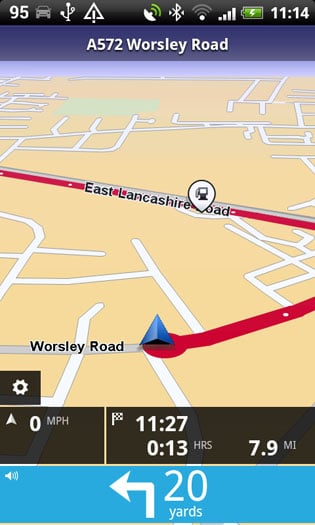 Main menu and Portrait view navigation
The map graphics and guidance prompts are very similar to those used in TomTom's stand-alone devices which means the app is one of the best when it comes to the nuts and bolts of navigation. The comprehensive menu meanwhile is very simple to navigate and features large, easily activated buttons.
Running on my HTC Desire HD, everything worked smoothly and the app launched promptly, taking around twenty seconds to find and show my location. I've heard some people say the pinch-to-zoom feature is temperamental but I experienced no problems in either the map or navigation views. All the destination search facilities from postcodes to POIs worked reliably and you can access your contacts addresses from within the app. Once you've chosen 'where', TomTom's IQ Routes system continues to lead the field as the best way of working out how best to get there at any give time.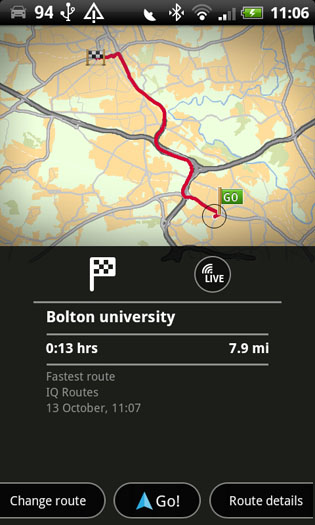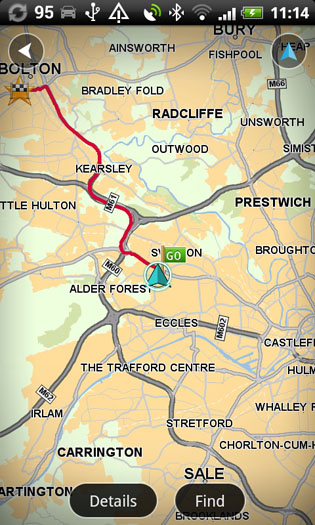 Route selection and Map view
The option to remove a certain road or roads from a planned route by a simple tap on the screen is a feature that I continue to find useful. That said, the occasional tendency for my location and/or orientation to drift on the map when stationary was less welcome.
It came as no real shock to discover that the HD Traffic congestion spotter and speed camera alerts are in-app purchase extras and – like the app itself – they are rather costly. At least infrequent users can buy these additions by the month. Lifetime map updates, four per year, come at no extra cost.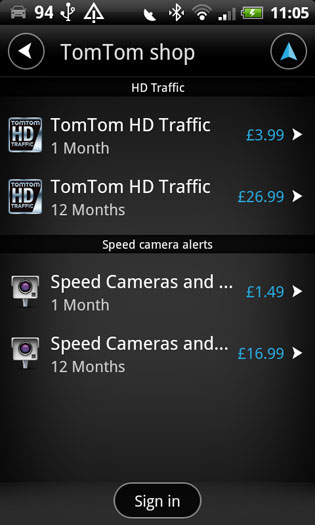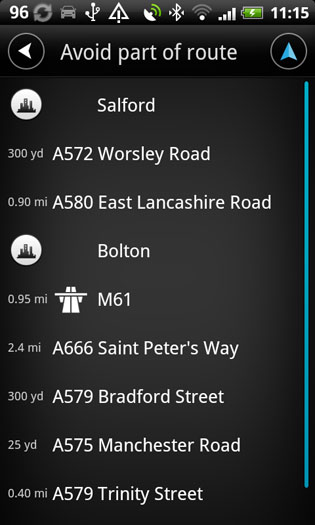 In app purchases and Road Avoidance
Verdict
If you have deep pockets, plenty of storage space and a phone with the right screen resolution, then the TomTom app and dock combination is an effective way to turn your handset into a top notch satnav – the dock, of course, will work with any navigation app though. Currently, the absence of support for 1280 x 720 devices is a severe limitation and the price of both software and hardware is a bit steep. ®
More Car Tech Reviews

Mio
Spirit 695 LM
satnav
Ten... Satnavs
to suit all budgets
Ten... e-cars
and hybrids
Ten... in-car gadgets
and accessories
Pure
Highway 300Di
in-car DAB radio
Sponsored: Minds Mastering Machines - Call for papers now open

TomTom for Android with hands-free kit review
A comprehensive and effective navigation hardware/software package for Android.
Price:
£31 (app with UK & Eire maps), £80 (hands-free mount) RRP