Phoenix IT Group tumbles off a cliff: £63m in losses
Onlookers predict Humpty Dumpty landing ahead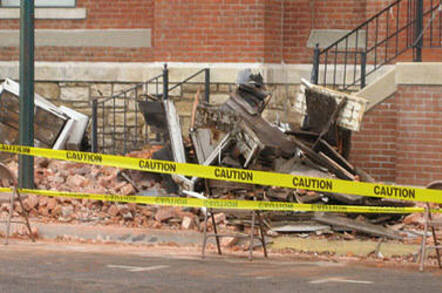 There's trouble at Phoenix IT Group - the services provider has recorded losses of more than £60m, been forced to take a massive hit from accounting errors and is laying off staff.
The results of accounting errors are in and the firm has taken a post-tax knock of £17.3m, forcing it to restate multiple year results after finding its Servo operation had over-egged the bottom line.
This was way higher than the £14m management estimated back in September when they revealed they'd asked PWC to come in to thumb through the books after a biz rejig this year highlighted dodgy practices.
Phoenix IT Group told the London Stock Exchange today the accounting probe found no evidence of cash theft but profits were overstated and costs understated from fiscal 2009 to this September.
It said the cost accrual, cost deferment and revenue recognition were "deliberately incorrectly applied and other accounting errors and misstatements made". This occurred in the mid-market unit formerly branded Servo.
A profitability review of the mid-market business unit is taking place currently, the firm said.
PWC and Nabarro are reviewing Phoenix's beancounting and control processes and have proposed a relocation of the finance activities of Servo to a new centralised function at Northampton HQ.
Management didn't solely blame the accounting debacle for poor half year results, they said the restructure launched by former CEO Dave Courtley played a part too.
"The first half results were disappointing," said exec chairman Peter Bertram. "The business suffered from transitional issues caused by the new structure and the discovery of the accounting irregularities."
Group sales fell to £124m for the half year to 30 September from £131m a year earlier.
Phoenix made an operating profit of £9.9m but took at £60.1m hit from totally writing off the total goodwill of Servo, restructuring cost it £1.1m as it merged units and paid £2.7m interest on a bank loan of £85.4m.
Goodwill across the group now stands at £114.2m, down from £181.4m, with £81.2 pegged on the Business Continuity unit and £33m on Partner Services, a business that provides IT services to users on behalf of other resellers.
Cash and cash equivalents at the half-year mark were £11m, up from £8.6m.
Sales at the Business Continuity unit fell to £27.6m from £28.2m a year ago and it made an operating profit of £8m, up from £7m.
Turnover in the mid-market unit (Servo) fell nearly 6 per cent to £42.7m and it filed an operating loss of £2.6m, compared to a profit of £1.3m in fiscal 2012.
The Partner Services unit, which provides services to customers on behalf of other channel firms, saw sales dip to £53.7m from £57.5m, and profits from operations of £5.8m, down by £2m from a year ago.
Bertam said the half-year results meant it is "cautious in the short term" but pointed to its recent contract win with IBM, which is akin to a framework agreement estimated to be worth £40m over five years.
He said this desktop support deal, "along with our strengthened pipeline of opportunities in the second half of the year", suggests "we are well-positioned for the medium to long term".
Sources close to the company claimed Phoenix had expunged around 40 "contract and accounts staff" from the Birstall-based offices.
This comes on top of the 300 staffers that Phoenix removed at the start of this year. It also threatened to get rid of a load of engineers earlier this year, putting them at risk of redundancy, but never pulled the trigger.
Credit insurers will not look upon these numbers favourably, which could make life tougher for Phoenix, and industry watchers are already privately forecasting a breakup of the group. ®
Sponsored: Minds Mastering Machines - Call for papers now open