Peter Moore: IT consultant, Iraq hostage - Part Two
Xboxes, the Simpsons, freedom, and dealing with HR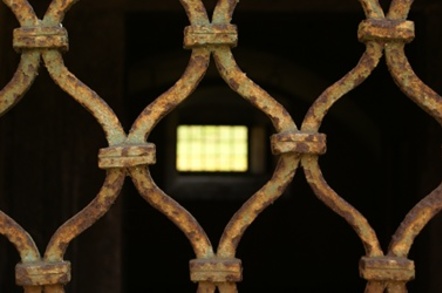 When we last left IT consultant point Peter Moore, he had spent over a year in the hands of an Iraqi Shi'ite militia, being shuffled around from building to building as his captors sought to evade coalition forces. Moore spent much of his time chained, handcuffed, blindfolded, and separated from the four British guards with whom he had been abducted.
Unbeknownst to him, his four former colleagues were already dead. Two of them had escaped from the house in which they were being held captive and only to be shot in the street, while a third had been killed trying to steal his captor's gun. The fourth was shot by the militia when they thought the house they were in was being raided.
The bodies of two of the guards were then used in May 2009 to buy the exchange of the militia's second-in-command, Laith al-Khazalli, from coalition forces. Al Khazlli came to see Moore shortly after his release, a visit that was to lead to better times for Moore and his eventual release from captivity.
The Register So what happened when you met Al Khazalli?
Peter Moore He told me first off that everyone else I'd been taken with was dead. They either died trying to escape, or they were held in a house where the guards thought the place was being raided, although there was no such raid, as it turned out. He apologized for that.
I don't know the truth of that. The inquest of three of the bodies said that they'd been killed in classic execution style. I stand by what the militia guy told me. I think they tried to escape, got caught, and were executed in response.
Then we had a bit of a discussion. I'd been chained for two years at that point, and I pointed out that America hadn't done that to him when he was jailed. Why was he doing it to me? He eventually agreed, but did warn me that if I tried to escape then I would be killed.
I said fine. After two years my muscles were wasted away, all the guards were dead, and if they couldn't get out there was no chance of me doing it. So after that the chains came off full-time, I could walk around more and there was even an en-suite toilet.
Reg Did you manage to establish a rapport with your guards, too?
PM In 2009 the guards were actually pretty good. I'd been moved back up to Baghdad by this time and the guards had changed.
These guys described themselves as being part of the Northern Faction, and they were much less religiously extreme. They were certainly serious about their religion, prayed three times a day, but they were not extremists. The people in Basra were downright evil, to be honest with you.
The ones in Baghdad were much more easy-going. One of them, a militia major as he described himself, I actually got on with really well. I was really hoping that he might turn me in to the coalition, but he never did. Somehow he just disappeared; I don't know what happened to him.
I had some feeling at the back of my mind that the militia had killed him off because he was getting too friendly with me, but I don't know if that's true or not.
Reg And you got to watch television?
PM Yes, although no Western news. All those channels were deleted off the satellite system. Lots of entertainment stuff, and I gleaned what I could from that.
I heard that President Obama had been elected from watching the Oprah show, and picked up some stuff from TMZ and Dr Phil, too. We did get to watch a lot of Simpsons episodes. I told the guards that if you want to know about American culture, this is the thing to watch.
Reg It was also reported you had access to PlayStation?
PM I think honestly the PlayStation was bought in because the guards were quite bored.
The first time we had a PlayStation was right at the end of 2007, and they'd play a FIFA football game on it – I can't remember which one. But I couldn't play, as my glasses had been taken off me.
In 2009 this guard actually brought in an Xbox. I'm not a fan of the Xbox and I didn't want to give Microsoft the publicity, so when I was released I only told the press about the PlayStation. I was hoping Sony might get me a free PlayStation, but maybe it's not the kind of publicity they are after.
The FIFA football games were still popular, and they had a couple of those first person shooter games, but I can't remember which ones. I think one was Black Ops or something like that. I did joke with them, asking if this was how they were training the militias these days.
Reg As a fellow Star Wars geek I understand you faced a Chewbacca choice?
PM We developed this board for an Iraqi version of draughts – or Chinese Chequers, as they call it in the US.
So we played this and I got the hang of it – sometimes they'd win and sometimes I'd win. But there was this one guy who was actually very bad at it, and the problem was he was a regular guard and he got quite annoyed very quickly. So I used to let the Wookie win. Part of me was thinking "Is this a scene from Star Wars or what?" Winning 50/50 was OK but any more than that might have caused a problem.
Reg And you were still doing technical support?
PM From that point on I did a number of things, a bit of reinstalling, installed games for them, that sort of thing. They'd copied a lot of games where the instructions were in English so they needed me to install them. In 2009 they came in with a flash drive of military files that they couldn't access. Basically they were just hidden files, so I unhid them and opened them up, and it was a PowerPoint chart of all these people who had been arrested.
The first thing it said at the top was: "Only to be viewed by American, British, and Australian military intelligence personnel." I thought great, I'm going to get out and be the first person to be held in prison by both sides.