Fujitsu's canine cloud keeps pets petite
Canine health management the latest money-spinner from Japan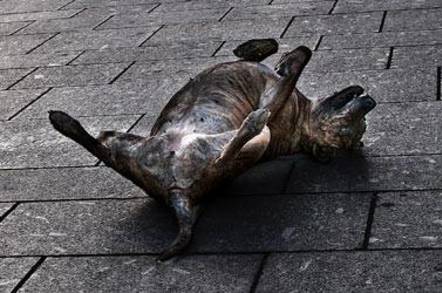 Japanese tech giant Fujitsu has tapped its considerable expertise in cloud and mobile computing to produce a canine health management system designed to stop pet dogs from getting too fat.
The unlikely tech innovation requires a rather chunky pendant to be worn round a mutt's neck. The device includes a pedometer, a thermometer to record changes in temperature and whether the creature is shivering, and an RFID tag that beams data from a sensor or smartphone to the cloud.
To get the best from the system, dog owners need to feed it some baseline data. Leg length is a useful piece of information, as it helps the built-in accelerometer to measure how far a pooch has paraded. Offering up information about the food one's dog eats, and even the condition of its stools, makes for richer online analytics when users log on to
That data is then sent automatically up to the cloud whenever the RFID-enabled tag is held next to the owner's smartphone or computer.
Users can then log on to view their dog's vital stats.
The Wandant system – the name is derived from wan wan (dog) and 'pendant' – comes in pink or blue, because one wouldn't want one's canine to look ridiculous.
Fujitsu presents the following by way of explanation as to why it devoted its not inconsiderable computing resources to household pet care:
Given the demographic shifts in modern Japan, where there are fewer children and more people living longer, as well as a growing number of single-member households, pets have become increasingly important as family members and companions. As such, the environment surrounding pets and people is undergoing enormous changes. For example, the percentage of households with dogs has risen to 17.7 per cent, and the average lifespan for dogs has climbed to 13.3 years (equivalent to 72 in humans). Due to these shifts, the aging of pets and their care, as well as problems such as obesity, are becoming increasingly prominent issues.
Wandant is only available in Japan at the moment with a year's worth of cloud bundled into the ¥9,800 (£75) price tag. ®