The 'subversive adult Disneyland' where iPods track your every move
El Reg visits the Museum of Old and New Art, where IT budgets are boundless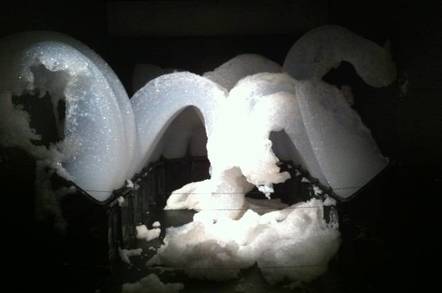 David Walsh invented what he calls "a money mine", and when he decided to spend some of its contents on an art gallery, he gave his IT team more than four years to provide the best visitor experience of any museum in the world.
That team now rates their work on the gallery as a "dream project", thanks to Walsh's no-compromises attitude and an environment in which different disciplines pulled together. A more-or-less-limitless budget also helped.
The 51 year old Walsh was able to offer this work environment because he is a professional gambler who devised a betting system that works so well there's conjecture about whether he's a billionaire or merely a multi-millionaire many times over.
However large his fortune, he's been able to spend at least $AUD100m on art, amassing a collection that outgrew first his home and then a small museum.
His new creation, Hobart's Museum of Old and New Art (MONA), can hold a lot more of his booty and was designed as "a subversive adult Disneyland". Since opening in 2011 it has become one of the planet's hottest artistic attractions.
The Museum is unashamedly an expression of Walsh's tastes and interests and has polarised the art world, thanks to exhibits like Cloaca, a machine that makes a spectacle of food turning into faeces. Within the walls of the museum you'll also find the pelt of a kitten, staked out as if it were a bearskin rug, and The Epic of Gilgamesh written in binary on the walls of a maze.
Technology infuses many exhibits, with one of the first works on display, bit.fall, offering a waterfall that connects to the Net to find words trending in news. Those words are squirted out by a row of nozzles which generate a cascade of disintegrating droplets-as-script.
Technology is also thrust into every visitor's hands when they arrive, in the form of an iPod touch on a lanyard. 'The O', as the device is dubbed, locates visitors as they move about MONA's galleries and offers content – audio, text and video - pertinent to nearby artworks. Each work offers a chance to cast a vote – the options are Love or Hate – with results presented instantly so visitors can see how their tastes match those of previous visitors.
At the end of a visit, The O uploads a list of all the artworks a visitor beholds to the web, so that visitors can re-live their visit.