Legal wigs to sort out rules on internet defamation, contempt
The law is the law, but we only have so many courts
In the wake of Lord McAlpine's lawyers threatening to sue thousands of Twitter users for libelling his name with false allegations of child abuse, as well as the multiple issues surrounding tweets that may be in contempt, the Attorney General has clarified that the same legal framework applies on the internet that applies offline.
Dominic Grieve QC told MPs on Wednesday, in response to a question from Labour politico Chi Onwurah, that the Law Commission was in fact reviewing contempt specifically as it relates to the internet.
He said:
An offence committed on the internet remains an offence. It is my belief that public awareness and understanding of this has been raised by a number of high profile cases and court proceedings over recent months. These have resulted in both fines and imprisonment for the offenders and have been widely reported.

The Law Commission is currently reviewing the law of contempt and will look at the issue of contempt and the internet. A public consultation will shortly commence.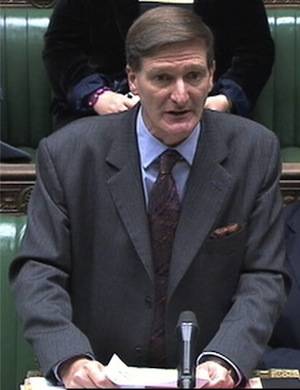 Dominic Grieve QC. Pic credit: Attorney General's Office
In the meantime, the Director of Public Prosecutions Keir Starmer is understood to be finalising interim guidelines on how offences involving social media and the internet should be prosecuted.
The Commission looked into issues of defamation on the internet prior to the 15 March 2011 publication of the draft Defamation bill, which is currently moving through pre-legislative scrutiny in Parliament.
Starmer has urged police forces across England and Wales to approach such cases in a measured way to avoid what he said could end up being millions of trolling offences being prosecuted in courts across the land.
McAlpine's lawyers, meanwhile, are understood to be building a massive libel case against Twitter users. It's been reported that people who wrongly named the former Tory Party treasurer on the micro-blogging site are being asked to cough up cash or else face legal action.
The peer wants Twitter users with fewer than 500 followers to make a fixed donation - said to be £5 - to the BBC's Children In Need charity.
But for those people on Twitter with more than 500 followers, it has been suggested that McAlpine is seeking out-of-court settlement for larger sums of money that could amount to thousands of pounds for a stupid tweet or retweet that wrongly identified the lord of the realm as a child abuser.
His name was incorrectly linked to a child abuse case after a botched BBC2 Newsnight programme - which didn't name the peer - reported that a "senior Tory from the Thatcher years" had been accused of child abuse by north Wales care home victim Steve Messham.
Messham later said that it was a case of mistaken identity. He is still trying to track down the actual perpetrator and bring him to justice.
McAlpine has since agreed a £185,000 settlement plus costs with the BBC.
His lawyers are separately pursing a defamation payout from ITV1, after This Morning presenter Phillip Schofield haplessly waved a piece of paper containing uncorroborated names of rumoured child abusers that had been sourced from the internet in front of Prime Minister David Cameron on live television.
Sally Bercow, wife of Speaker of the House of Commons John Bercow, quit Twitter earlier this week, following a series of legal gaffes that included her wrongly tweeting McAlpine's name. An apparent hacking of her Twitter account appeared to have contributed to her disappearance from the site.
Guardian blogger George Monbiot and comedian Alan Davies are among the famous names also caught up in the McAlpine drama, after they too wrongly suggested on Twitter that the peer was a paedophile. Both have since apologised to McAlpine for their actions. ®
Sponsored: Beyond the Data Frontier