Want to run your own Apple shop? Start with £70k of German chairs
Cupertino bottom inspectors' checklist for Premium chums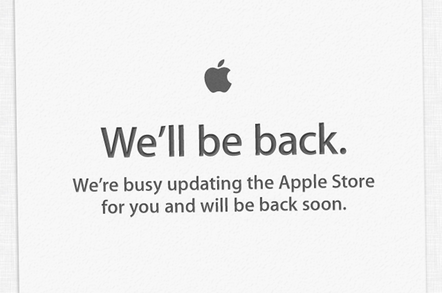 Marvel at the lavish Corian countertops and the shimmering metallic shelving forming a temple of Jobsian worship. Be still and know that you are in the hands of one of Apple's premium resellers.
Around you are hushed voices discussing iPads and iMacs, and the occasional ripple of excitement from a fanbois. But there may be another noise: a rumble of discontent.
Surely not within the walls of a Cupertino premium reseller? Yes, really: some shiny Apple shops are just not shiny enough, and come January they will no longer be able to call themselves premium resellers.
Any outlet in the iPhone-maker's loyal band of independent dealers that hasn't conformed to version two of Apple's store requirements will be stripped of its official badge of honour - then it will just be a bog-standard reseller without the perks of a premium partner.
Blueprints for the latest shop design were handed down across Europe 18 months ago, but retail partners in the UK were given a stay of execution to get their houses in order, literally.
Apple has, among other criteria, set a minimum ceiling height, and the layout of the front windows, demanded the installation of custom-built furniture from German manufacturer Dula as well as specific oak flooring, and defined the level of training for sales and techie staff must have.
The exact specification is closely guarded by Apple and its dealers, who face ejection from the Cupertino club should they say anything more than nothing.
The cost of complying with version two is not cheap: partners need to find £100,000 in cash upfront to pay for a single store refit, although costs do vary depending on the size of store.
Apple-approved wooden flooring costs on average £30,000, and the standard-issue Apple furniture costs in the region of £70,000.
The flooring is paid for by Apple following a successful inspection by its officials, and it also coughs up half for the furniture if the premium reseller meets the minimum guidelines and hits its sales targets in the subsequent 12 months.
This is one of the occupational hazards of flogging tech from one of the most paranoid and sought-after vendors on the planet.
Premium reseller Square Group has chosen to give up its Apple accreditation in all but one of its outlets: its concession in Selfridges in Oxford Street, London, will remain open as a version-two premium reseller, but it has closed the other Apple outlet on the same road.
Square Group's Derby and High Wycombe outlets will downgrade to become a standard Apple reseller, flogging Apple products, complementary kit and rival brands to biz customers.
"It was a commercial decision," said Darren King, Square Group boss, whose Oxford Street store was the first Apple premium reseller on a London High Street. "We couldn't make money with two Apple stores in our back garden."
The company bought a building near Tower Bridge to house its service and design centres that were based in Southwark and Borough respectively. It is focussing attention on business-to-business and enterprise areas.
Independent retailers have been fighting the gravitational pull from Apple's own stores on shoppers for more than a decade, and with more and more stores springing up all the time it isn't getting easier.
As well as the extra high-street competition, Apple also slaps restrictions on premium resellers: it refuses to let them promote complementary kit in the shop window nor connect up third-party products in store. Want to try some Bose speakers with an Apple product? Forget it. This was a change Apple introduced years ago as its prominence grew.
The benefits of being a premium reseller include more margin, faster product shipments and marketing support. But a number of resellers claim being a premium outlet is too restrictive.