All-flash-array flogger WhipTail in mad dash to fortify EMEA base
Quick, before Violin and the others get here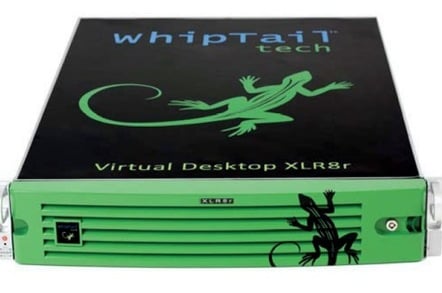 Self-proclaimed first shipper of an all-flash array, WhipTail, says UK customers are taking to its all-flash arrays in droves, with the company expecting a 1,100 per cent increase in sales this year. But it is expecting the competition to be snapping at its heels fairly shortly, which is why it has recruited an ex-EMC Isilon channel head to grow its base of UK dealers.
In October this year, Whippany, New Jersey-based WhipTail (background notes here) said its worldwide customer count had passed 100. How many of these are based in the UK we don't know. If it was 20 at the end of 2011, a 1,100 per cent increase would take us to 240. If it was 40, it would be heading towards 480. You can do the math.
Whatever the number of customers, it seems the growth rate has justified its appointment of Sally Reade as EMEA channel director. Reade joins from EMC where she was the UK and Ireland channel manager for Isilon. She also had previous job stints with Veeam and VMware. She will be working with existing Whiptail EMEA VARs, distributors and partners in the form of Softcat, SDG, Terach, and Commaxx, but is clearly aiming to grow their number; it wasn't long ago when she grew Veeam's North Europe channel to more than 700 companies.
WhipTail knows it has to work fast and get an EMEA and worldwide customer base established alongside possible market leader Violin Memory, and do so before the majors get motoring with their channels - like EMC with its XtremIO acquisition, IBM with its TMS acquisition, and Dell, whenever it produces an all-flash-array with ground-up software. It's going to have to whip some channel tail to shift those boxes so, channel guys, if you're fed up of being told to only sell added-value services and forget boxes, you might want to give it a look. ®
Sponsored: Becoming a Pragmatic Security Leader