Shrewd El Reg plotter shows storage bods in revealing numbers
The great, the good, the bad and the ugly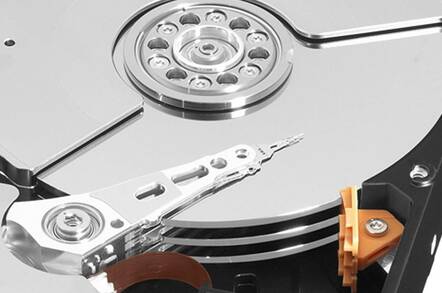 "Spaghetti" storage vendor groups are what you see when you lay bare these firms' quarterly revenue histories in a revealing graph. They fall neatly into four groups: the great, the good, the bad and the ugly. Which group are your suppliers in?
Let's kick of this chart-fest with an overall look: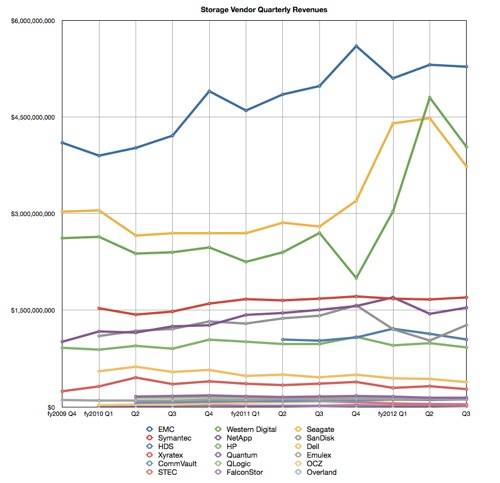 Click on chart for larger version
The quarters have been labelled as if they were EMC quarters, but all the vendors' quarters have lined up okay. It's obvious that EMC, Seagate and Western Digital are the great threesome, with multi-billion dollar quarterly revenues separating them out from the rest. Seagate and WD punch out disk drives to a waiting huge mass of buyers, and EMC just blows every other storage array and software supplier away - it's head and shoulders above them in revenue terms.
Unfortunately we don't have IBM storage revenues, as it is difficult to get hold of them.
There seem to be two groups below our top trio: Symantec to HP, and then the rest. Let's look more closely at them by excluding EMC, Seagate and WD from the next chart.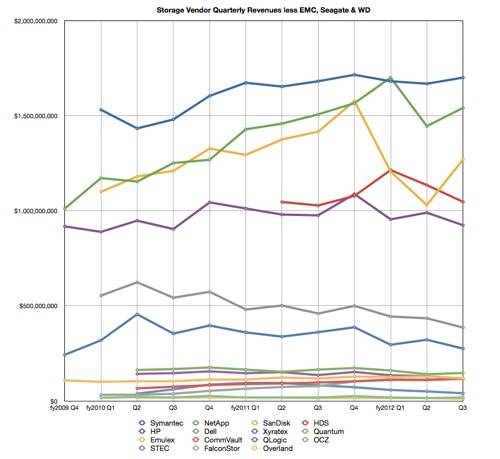 Click on chart for larger version
As if by magic, three groups now appear where before there were two. The top five are in the almost $1bn to roughly $1.5bn a quarter area and comprise:
Symantec - the leading storage software company that's thought to be under-performing.
NetApp, a long way below EMC but a decent way above most everybody else, except SanDisk. NetApp almost passed Symantec in revenues but then fell back.
SanDisk, which had been growing strongly, like NetApp, but then declined for two quarters as it fouled up flash products for mobile phones.
HDS, which is doing better at storage than HP, but has suffered a downturn for two quarters.
HP, which has been flatlining overall for a couple of years, after its hoped-for 3PAR revenue bounce failed to materialise and later its EVA line was outclassed by competition. It also missed out for a time on a 3PAR migration option, which it now has.
Then there is a substantial gap before we encounter the next pair of suppliers, Dell and Xyratex, both of which have been trending down for a couple of years. Xyratex is pinning its hopes on the ClusterStor HPC/supercomputing array. Dell is looking to lift storage sales by twinning them with server and networking gear in a converged infrastructure.
Now we'll chart the rest, the fourth group, which comprises a group of suppliers from Quantum to Overland Storage. Several revenue trend lines here are flat or sinking down, mostly from legacy suppliers burdened by baggage.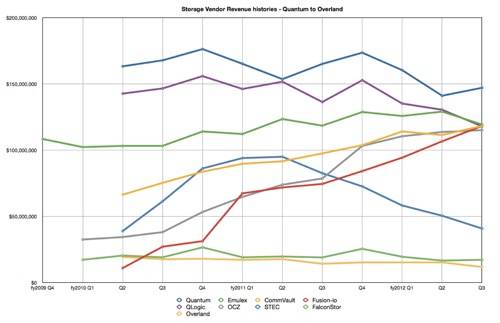 Click the chart for a larger version.
This is our ugly group, but there are a quartet of twinkling stars here, all growing:
Emulex, the storage networking adapter company, has been growing relatively steadily and has just overtaken declining QLogic.
CommVault has been growing its revenues in a line that's almost as straight as an arrow.
SSD supplier OCZ has experienced a sharp growth, although the growth rate levelled off recently as it over-expanded its product line. A new CEO could and should steady the ship.
Fusion-IO with its server flash hardware and software has been growing like OCZ and has just over-taken it for the second time.
Quantum is pack leader here, but its general revenue trend is down, as newer disk-based hardware and software products fail to shrug off the debilitating tape legacy. SSD supplier STEC is still dealing with the after-effects of its meteoric Fibre Channel SSD rise and fall, having been passed by OCZ and Fusion-io. Unless it pulls out of its falling revenue trend, it's going to join FalconStore and Overland in the bottom of the "ugly" category.
The two bumping along the bottom are data protection software vendor FalconStor - which has appointed bankers to look at its strategic options, which presumably would include a sale - and Overland Storage, the legacy tape plus newer disk products vendor. Overland is the worst performer in our group, with FalconStor only marginally better.
There are several privately owned storage companies doing very well, with DataDirect Networks and SpectraLogic coming to mind, offering HPC disk arrays and tape libraries respectively. DataCore with SAN virtualisation software and Panasas, another HPC array supplier, are in this privately owned category. So too are X-IO, Nexsan, and the many hybrid flash-disk array, flash array, SSD, cloud storage and cloud storage gateway vendors, not to mention data protection software suppliers.
The world of storage suppliers has a large group of start-ups jostling to grow, go through an IPO and get bigger, ready to weed out and replace the dead wood in the charts above. It's going to be "all change" in a couple of years as flash, scale-out ideas, snapshot/replication, virtualisation and the cloud blow away the old steady-state storage business, which is centred on data protection software, dual controller drive arrays, both block and file, and monolithic arrays. ®