Housewife iPhone mules on trial in China
Shenzhen court hears how Apple kit crossed border in hands of unlikely smugglers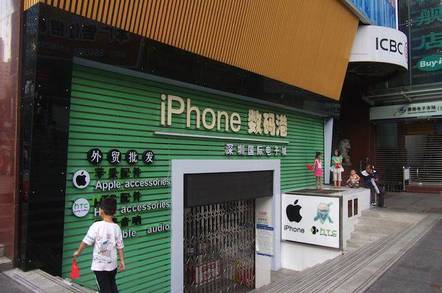 Chinese authorities are catching up with the massive trade in Apple goods illegally smuggled into China, after 25 defendants appeared in a Shenzhen court last week accused of selling iPhone and iPads worth 500m yuan (£50m) to an online store.
The suspected smugglers, over half of whom are regular housewives, belong to five gangs which together offered over 162,000 shiny fruit-themed gadgets to the now defunct Lanyou Numeral, apparently once rated as top seller of such items on China's largest e-commerce platform Taobao.
Aside from smuggling the tech goodies, the 25 are also accused of evading 54.87 million yuan (£5.5m) of taxes, Shenzhen Intermediate People's Court heard.
The housewives on trial became Apple gadget mules after being offered 20-30yuan for each device they bought in Hong Kong and smuggled across the border, according to Shanghai Daily, citing a Southern Metropolis Daily report.
The five gangs were apparently smashed in April and Lanyou's digital store on Taobao closed down.
Taobao had the following official statement in response to the latter:
Taobao Marketplace demands its merchants to operate their businesses in accordance with regulations and policies and has a number of consumer protection mechanisms in place; Taobao Marketplace will continue to cooperate with relevant authorities to protect the rights of both buyers and sellers.
The trade in smuggled items remains brisk given that Apple continues to release new products several months later on the mainland than in Hong Kong, where prices are also around 20 per cent cheaper thanks to lower taxes on electronics and luxury goods.
Apple has tried to put a stop to so-called scalpers buying up much of its stock in Hong Kong and smuggling it across the border by instituting a Reserve & Pickup policy, whereby only residents with Hong Kong ID cards can reserve items.
The system is far from perfect, however. Not only has it annoyed locals by using a lottery system to decide whether a reservation is successful or not, but scalpers are still able to bribe Hong Kong ID card holders into flogging their shiny new purchases for a little extra.
Forrester recently revealed that 70 per cent of iPhone and iPads bought in Hong Kong this year will eventually be smuggled into China.
Most of the defendants have apparently confessed in the hope of a more lenient sentence, using the excuse that they thought their handling of iOS devices was just a part-time job.
Over 100 smugglers were originally arrested back in April but there is no news on what happened to the others. ®
Sponsored: Webcast: Why you need managed detection and response